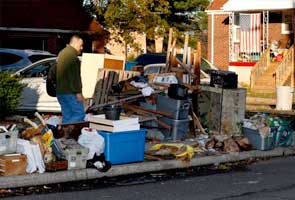 Little Ferry, New Jersey:
The big dipper hangs over Liberty Street as Frank Puzzo arrives to begin his Election Day duties. Just a week ago, rescuers were piloting boats through three feet of water that coursed past Memorial School and throughout this storm-scarred town. Now, it's 28 degrees; the first voters won't arrive for nearly an hour.
But Puzzo - whose apartment still has no heat or hot water, whose car was claimed by storm surge - is the first to arrive to prepare and open the polls.
"This is super important for the future of the country," says Puzzo, an accountant who has been out of work since July.
The people of Little Ferry could be pardoned if they focused purely on their beleaguered present. Some arrived shivering and clearly exhausted, their long-held certainties about shelter and safety deeply shaken. But the future matters to the people lined up at the voting machines in the hallway outside Ms. Kukula's third-grade class.
Agim Coma, a 25-year-old construction worker, is the first voter to arrive, 13 minutes before polls open. The storm claimed his apartment and car.
It's important because it's our day," he said, as Election Day in America got under way here and everywhere. "No matter what happens - hurricanes, tornados - it's our day to vote."