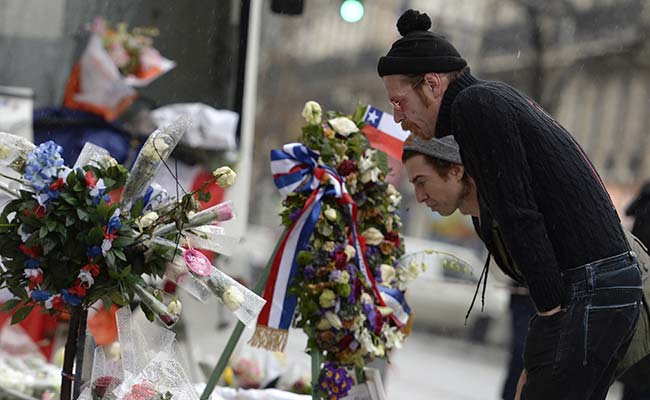 Paris:
The Eagles of Death Metal band returned to the Bataclan concert hall in Paris Tuesday, nearly a month after they survived a terrorist attack there in which 90 people died.
Clearly moved by the floral tributes and messages left outside the building, the Californian band spent several minutes reading cards left at the scene of the worst atrocity of the November 13 attacks on the city.
The musicians made a highly emotional return to the French capital on Monday night, joining the Irish rock group U2 on stage at the end of their concert in the AccorHotels Arena to belt out a rousing rendition of Patti Smith's "People Have The Power".
As the 16,000-strong audience rose to their feet to cheer them, lead singer Jesse Hughes shouted, "Paris, we love you all and we will never give up rocking and rolling."
The band had only just begun their concert at the Bataclan when gunmen burst into building and opened fire on the audience.
Their merchandising manager, Nick Alexander, 36, was among the victims.
Hughes thanked fans and U2 for helping to support them during the ordeal and vowed to return to play Paris again in February, in a letter posted on Facebook today.
"We are incredibly grateful to U2 for providing us the opportunity to return to Paris so quickly, and to share in the healing power of rock 'n' roll with so many of the beautiful people -- nos amis (our friends) -- of this great city.
"Thank you to France, and thank you to everyone in the world who continues to prove that love, joy, and music will always overcome terror and evil. We look forward to fighting the good fight on many more fronts very soon, especially when we pick up our tour in 2016," he added.