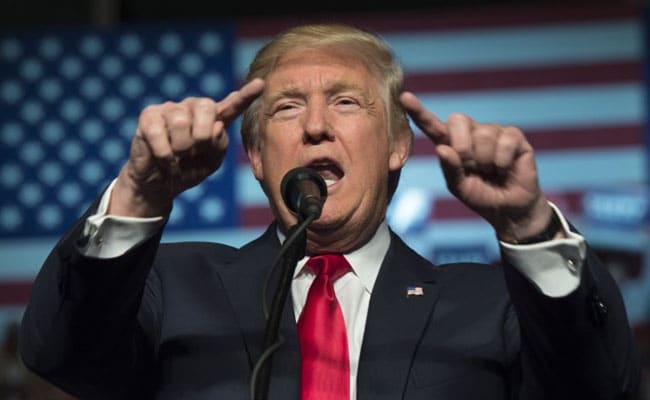 Washington, United States:
President-elect Donald Trump Tuesday trumpeted a trio of major company announcements pledging additional investments in the United States as proof his America-first stance on the economy is already producing results.
Wal-Mart Stores, General Motors as well as Bayer and Monsanto, which are in the process of merging, unveiled plans for job creations, new stores, research and assembly plants.
"Thank you to General Motors and Walmart for starting the big jobs push back into the US!" Trump tweeted in response.
Since November, the incoming president has used the bully pulpit of his impending presidency to attack major companies, accusing defense contractors of overcharging for planes and threatening manufacturers with stiff import duties if they sell foreign-made goods on the US market.
In succession, business leaders appear to have answered Trump's call, pledging new US investments and domestic job creation.
Wal-Mart Stores
The mega retailer announced Tuesday it would invest $6.8 billion in the United States -- opening, expanding or relocating 59 Walmart and Sam's Club locations and creating 10,000 jobs in stores and online sales.
The company also pledged to spend $250 billion on products made, grown, assembled or sourced in the United States.
Shares in the company were up 2.3 percent toward 1900 GMT.
General Motors
The US auto giant said it would invest an additional $1 billion inside the United States on top of $2.6 billion already announced last year and would create 5,000 jobs in the coming years.
The announced move included 1,500 "retained" positions tied to investments in new vehicle and advanced technologies as well as 450 jobs returned from Mexico.
GM's statement came a week after a business-as-usual message from GM CEO Mary Barra, who told reporters at the Detroit Auto Show that the company would press ahead with plans to manufacture the latest version of its GMC Terrain SUV in Mexico.
Trump this month singled out GM for criticism on Twitter, threatening the company with import duties for selling a Mexican-made version of the Chevrolet Cruze on the US market. About two percent of all Cruze cars sold in the US are Mexican-made, according to GM.
The company's share price had risen 0.2 percent in New York toward 1900 GMT.
Bayer-Monsanto
The German chemicals and pharmaceutical giant Bayer and the US agribusiness firm Monsanto, which Bayer is in the process of acquiring, announced about $8 billion in investment in agricultural research in the United States.
The announcement followed last week's meeting between Trump, Bayer CEO Werner Baumann and Monsanto chief Hugh Grant, which a Bayer spokesman described as "productive."
A Trump spokesman said the investments were coming "because the president-elect's focus on creating better business climate here in the United States, which has already increased consumer and small-business confidence since the election."
The companies, however, did not confirm Trump's statement that they would create at least 3,000 "new US high-tech jobs" or that they would commit to retaining the company's "9,000 plus US workforce."
In New York, Monsanto's shares had gained 0.5 percent by 1900 GMT.
(This story has not been edited by NDTV staff and is auto-generated from a syndicated feed.)