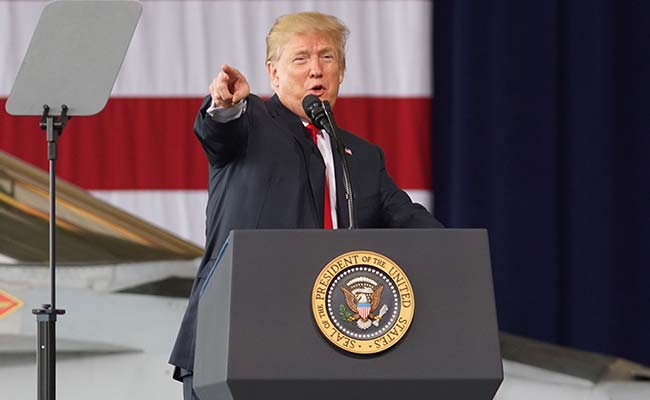 Washington:
A senior White House advisor on trade said Thursday that President Donald Trump would soon consider fresh punitive measures against Beijing over its "theft" of US intellectual property.
The warning raises the temperature for currently fraught US foreign relations, in which Trump's aggressive trade maneuvers have taken center stage.
With tariffs recently announced on major imports including steel and aluminum, trade war fears have sent markets tumbling in recent days and left US trading partners torn between conciliation and pushback in response.
"In the coming weeks, President Trump is going to have on his desk some recommendations," Peter Navarro said on CNBC.
"This will be one of the many steps the president is going to courageously take in order to address unfair trade practices."
Chinese officials have warned they are likely to retaliate in kind.
Speaking at a regular briefing Thursday, foreign minister spokesman Lu Kang said: "History has proven that a trade war is in no one's interest."
But he warned: "If an undesirable situation arises, China has the intention of safeguarding its legitimate rights."
The United States has long accused Beijing of forcing US companies to turnover proprietary commercial information and intellectual property as a condition of operating in China.
The office of the US Trade Representative in August launched in inquiry into the matter in August and is due to submit its findings to the White House soon.
The newly ascendant Navarro emerged triumphant last week when former top economic aid Gary Cohn resigned following a bruising internal battle over whether to impose the steel and aluminum tariffs.
Navarro, who rose to fame by publishing anti-Beijing diatribes on trade, is an outlier among more mainstream economists, who believe excessive tariffs will be self-defeating and trade deficits do not pose the threat that protectionists and trade hawks claim they do.
"I don't think...anybody on Wall Street will oppose cracking down on China's theft of our intellectual property," Navarro said.
Trump himself has for decades held nationalist views on trade and opposed globalization.
The United States on Wednesday launched a trade dispute with India at the World Trade Organization over export subsidies.
Officials say the White House is also considering imposing a raft of retaliatory trade measures against China by imposing tariffs on billions of dollars of tech and telecommunications imports.
Documents seen Wednesday by AFP also indicated the United States has proposed WTO reforms that would punish member countries which fail to abide by certain rules -- a move seen as being aimed squarely at Beijing, which the Trump administration says is not a market economy and should not have been admitted the WTO.
(Except for the headline, this story has not been edited by NDTV staff and is published from a syndicated feed.)