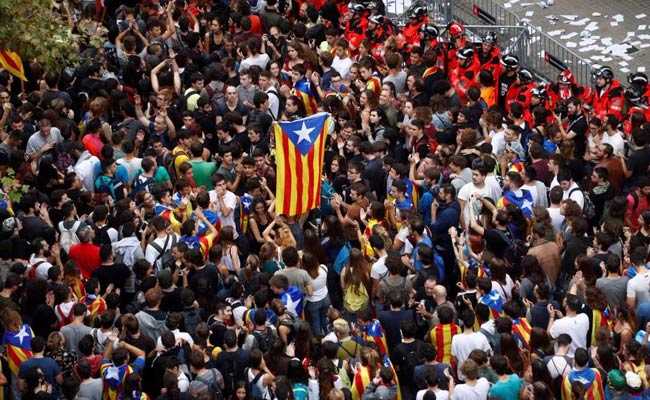 Barcelona:
Protesters blocked roads, public transport slowed to a crawl and FC Barcelona refused to train on Tuesday as Catalonia observed a general strike over police violence at a banned weekend independence referendum.
Schools and some businesses also shut in a dramatic protest bound to further ratchet up fever-pitch tensions with Spain's central government, as Madrid comes under growing international pressure to resolve its worst political crisis in decades.
The Port of Barcelona reduced services to a minimum, and protesters stood on roads and highways across Catalonia, blocking traffic. On the AP7 highway linking Barcelona to France two youths set up a folding table and played chess.
Catalan pro-separatist trade unions, schools and cultural institutions called for the stoppage to "vigorously condemn" the police response to the Sunday poll, in which regional authorities confirmed over 90 people were injured.
Catalonia's leader said 90 percent of voters backed independence from Spain, but the central government has vowed to stop the wealthy northeastern region -- which accounts for a fifth of Spain's economy -- from breaking away, dismissing the poll as a "farce".
In Barcelona the Metro provided only minimum service and passengers travelled for free, while major tourist sites like the city's emblematic Sagrada Familia Church were closed.
"It's a bummer because we're only here for a few days. But it's hard to say my vacation is more important than what is happening here," Karen Healey, 53, from Portland in the United States told AFP outside Gaudi's Casa Batllo in central Barcelona, also shut for the day.
Despite concerns that air traffic might be disrupted too, Barcelona Airport was operating as normal, a spokesman told AFP.
At the city Sants train station all shops remained open except for the one run by FC Barcelona football club, which issued a statement saying both its professional and youth teams would not train on Tuesday.
Asking not to be named, an employee of a toy shop in the station said members of the strike committee had asked her to shut the store for the day.
She refused because "the store is not mine, otherwise I would have shut it, to defend human rights."
Carmaker Seat said its three production lines were "operating at their usual pace," a company spokeswoman told AFP.
Violent scenes played out in towns and cities across Catalonia on Sunday as riot police moved in on polling stations to stop people from casting their ballots, in some cases charging with batons and firing rubber bullets to disperse crowds.
UN rights chief Zeid Ra'ad Al Hussein said he was "very disturbed" by the unrest while EU President Donald Tusk urged Madrid to avoid "further use of violence".
The European Parliament will hold a special debate on Wednesday on the issue.
Emergency talks
The government of Prime Minister Mariano Rajoy held emergency talks after Catalan president Carles Puigdemont declared Sunday that Catalonia had "won the right to an independent state".
Puigdemont has appealed for international mediation to help solve the crisis and called for police deployed to Catalonia from other parts of Spain for the vote to be removed.
The regional government said 2.26 million people took part in the poll, or just over 42 percent of the electorate.
But any attempt to unilaterally declare independence is likely to be opposed not just by Madrid but also a large section of the Catalan population, a region of 7.5 million people that is deeply split on the issue.
Puigdemont has said he will now present the results to the region's parliament, where separatist lawmakers hold a majority, and which has the power to adopt a motion of independence.
'Wrist broken'
The Catalan leader said close to 900 people had received medical attention on Sunday, though regional authorities confirmed a total of 92 injured. Four were hospitalised, two in serious condition.
Videos posted on social media showed police dragging voters from polling stations by their hair, throwing people down stairs and attacking Catalan firefighters protecting polling stations.
Magdalena Clarena Dabant, a 70-year-old grandmother, described a "brutal" incident when she decided to join "passive resistance" in her village to prevent the Guardia Civil police from seizing a ballot box.
"To stop them, many voters sat on the floor, I sat on a chair. They told me to go away, I responded I wouldn't move.
"They grabbed me by the arm, strongly, and I fell on the floor. In hospital they told me my wrist was broken."
(This story has not been edited by NDTV staff and is auto-generated from a syndicated feed.)