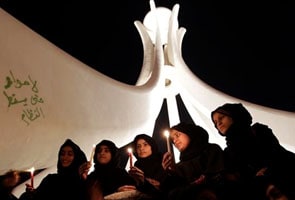 Manama:
Thousands of women in Bahrain took to the streets of the capital Manama on Saturday to show their support for the popular anti-government protests.
Most women wore traditional black cloaks, with their heads covered. Others wore Bahraini flags around their shoulders as they converged on Pearl Roundabout, the focal-point for demonstrations.
"Today we are happy that we've achieved, that we can tell our demands and needs," said Zahra, who sat with a group of women holding candles.
"We need to change the government of Bahrain. I mean the minister, His Highness, he has to be removed," she added, a strong comment in a nation which had, until recently, not dared to be overly vocal in criticism of the ruling Sunni royal family.
Another protester, Yasmina al-Said, wore a red shirt and carried a red tulip, symbolising Bahrain's flag.
She highlighted the wide cross-section of Bahrainis who took part in the protests: "There's no difference between young people or old, or women or men."
"We're here together... and hopefully things will change," she added.
But despite the varied demographics of the day's protest, some women - who did not want to be interviewed on camera - said that female Shiite students were facing stiff competition from non-Bahrainis such as Egyptians and Jordanians for much sought-after Royal scholarships.
The woman, who hopes to study medicine or psychology later this year, complained that these Sunni Muslims were being brought in to bolster Bahrain's Sunni population and awarded financial assistance that many Bahraini Shiite families were not given.
As the evening wore on at Pearl Monument, some women said they'd come out simply to support their husbands and brothers.
Many made small camps, and ate dinner on the nearby grass.
One first-year university architecture student, who did not want to talk on camera, said that her mother knew she'd joined the protest, and promised to "cover" for her with her father.
But medical student Zeinab had a more personal reason for joining the anti-establishment demonstrations.
She volunteered to help at a make-shift clinic run by other medical personnel helping protesters wounded in clashes over the past few days.
Most Bahraini women, she said, were well educated "so they're taking a part, they're taking an obvious part in the demonstration".