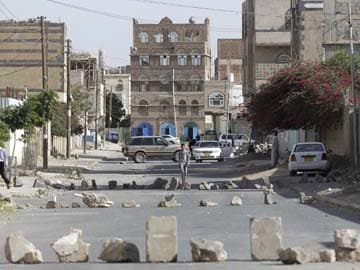 Dubai:
A coalition of 13 aid organizations has called for a permanent ceasefire in Yemen ahead of UN-sponsored talks Sunday on ending a conflict that has affected 80 percent of the population.
The relief groups also called for the lifting of an air and sea blockade imposed by the Saudi-led coalition that launched a a bombing campaign in late March in support of exiled President Abedrabbo Mansour Hadi.
"What Yemen urgently needs is a permanent ceasefire, an end to the Saudi-led commercial blockade" the groups said in a statement Thursday.
They also called for "an end to arms transfers to those responsible for breaches of international humanitarian law, and a sizeable increase in humanitarian and longer term development funding."
A five-day ceasefire last month allowed aid agencies to reach civilians caught in the fighting but UN efforts to extend the truce failed.
A delegation from Hadi's government is to meet with representatives of Shiite Huthi rebels and their allies in Geneva on Sunday in a bid to break the deadlock.
"Regardless of the outcome of the peace talks, the blockade needs to be immediately lifted and all obstacles hindering the provision of humanitarian aid and other essential commodities should be removed," said Priya Jacob, acting country director for 'Save the Children Yemen'.
"Otherwise more children will die from preventable diseases."
The relief groups said 80 percent of the population, or around 20 million people, had been affected by the fighting and were in need of aid.
"That the world continues to sit back and watch as a humanitarian disaster of this magnitude unfolds in Yemen is unacceptable and irresponsible" said Norwegian Refugee Council Yemen director, Hanibal Abiy Worku.
The signatories of the statement also include Care, Oxfam, the Friedrich Ebert Foundation and the International Rescue Committee.
The United Nations has described the humanitarian situation in Yemen as 'catastrophic', with more than half a million people forced from their homes.