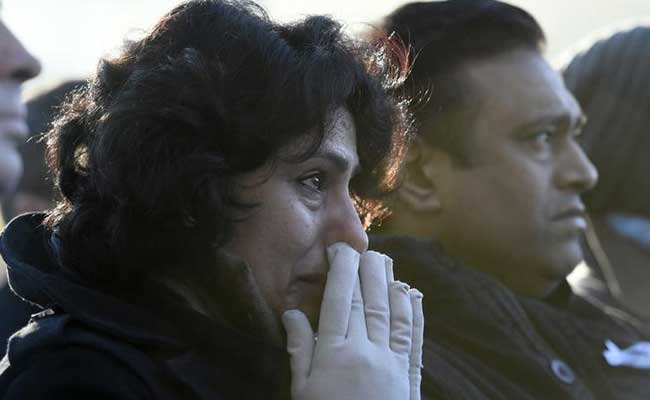 Brussels:
Belgium marked the first anniversary of bomb attacks that killed 32 people with remembrance ceremonies, a new memorial and poignant reflections from those who lost partners but survived.
"Many times I ask myself 'What if?'" said German Lars Waetzmann, who lost his wife Jennifer when two young Belgian Muslims blew themselves up with suitcase bombs in the departure hall of Brussels airport a year ago. The couple had been about to fly to New York.
"What if we had left 10 minutes later? What if we had driven a bit slower? What if? But it happened," he said, before recounting how a stranger had laid a jacket under his head and stayed by his side.
"It shows that next to horrible things that happened that day, beautiful things can happen."
Mr Waetzmann was speaking at a ceremony where the king and queen, government ministers, airport and rescue staff listened to a roll call of the 16 victims who died at the airport. Belgian Eddy Van Calster, who lost his wife Fabienne Vansteenkiste, an airport worker, sang a song he wrote for her, called "Stars".
A minute of silence was held at 7:58 a.m. to mark the time when two young Belgian Muslims blew themselves up with suitcase bombs in the cause of ISIS.
A bronze abstract sculpture which previously sat near the check-in desks was unveiled in a new site by the approach road to the terminal. It still bears marks from the explosions, which were carried out by individuals linked to Brussels-based militants who had killed 130 people in Paris four months earlier.
Just after 9 am, around the time a third bomber detonated his bag on a train, the king laid a wreath at Maelbeek metro station beside a commemorative wall covered in graffiti left by passers-by in the days after March 22: "Tous ensemble" (All together) read the most prominent message above a red heart.
Kristen Verellen, who lost her husband Johan Van Steen, read a poem: "March 22 - it's also my birthday - at first sight not a cause for celebration; and yet still love triumphs."
A monument to all the victims was inaugurated close to the headquarters of the European Union, where staff observed a minute's silence. EU chief executive Jean-Claude Juncker said the attacks "struck at the very heart of Europe" but had failed to undermine Europeans' faith in democratic freedoms.
King Philippe, who was present at all the ceremonies, addressed the families of victims: "To hate and to violence, you responded with dignity."
Prime Minister Charles Michel told Reuters in an interview that the Belgian state, which was criticised in France and elsewhere for failing to monitor large numbers of its citizens returning from fighting in Syria, had learned lessons and made reforms in security and intelligence.
"Belgium is on a sounder footing in security terms than it was a year ago," he said. "But even today I can't say there is zero risk. We know that whatever we do, when people are ready to kill themselves and blindly destroy as many lives as possible, we cannot have perfect security."
(Writing by Philip Blenkinsop and Editing by Mark Trevelyan)
© Thomson Reuters 2017
(Except for the headline, this story has not been edited by NDTV staff and is published from a syndicated feed.)