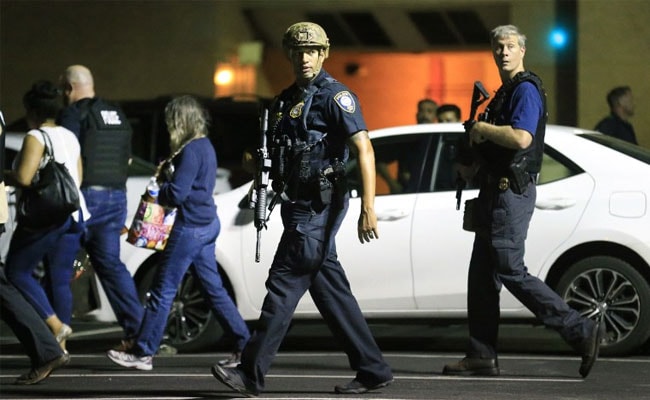 Highlights
5 Dallas police officers killed when snipers opened fire during a protest
Suspect kills himself, say reports. 3 more, including a woman, arrested
US aviation authorities restrict flights over Dallas
Dallas:
Snipers shot dead five police officers and wounded six more during a protest against police brutality in Dallas, in what US President Barack Obama called a "vicious, despicable and calculated" attack.
A suspect who engaged in gunfire with the police reportedly killed himself, although some local media outlets said he had shot himself. Three more suspects
including a woman were arrested
, Dallas Police Chief David Brown said early on Friday morning.
The suspect who reportedly died warned negotiators there are "bombs all over" and the "end is coming", prompting police to place the city on lockdown while they conducted "extensive" sweeps of the city center amid reports of bombs planted downtown.
US aviation authorities
restricted flights over Dallas after the deadly shooting
, which took place at around 8.45 pm on Thursday. The police chief said the snipers fired "ambush style" upon the officers.
Just after the shootings, the police had tweeted a photo of one of the suspects and appealed for information on him. They later said in a statement that the suspect had surrendered. Reports suggest that person has been released.
Update: pic.twitter.com/qBJe3q0EtN

— Dallas Police Depart (@DallasPD) July 8, 2016
This is one of our suspects. Please help us find him! pic.twitter.com/Na5T8ZxSz6

— Dallas Police Depart (@DallasPD) July 8, 2016
The shootings, which police described as a "terrorist incident," sparked chaotic scenes of people running for their lives during a march by several hundred demonstrators to protest the fatal shootings this week of two black men by police elsewhere in the country.
It was the biggest single loss of life for law enforcement in America since the September 11, 2001 attacks, and appeared likely to further strain already tense race relations in the country.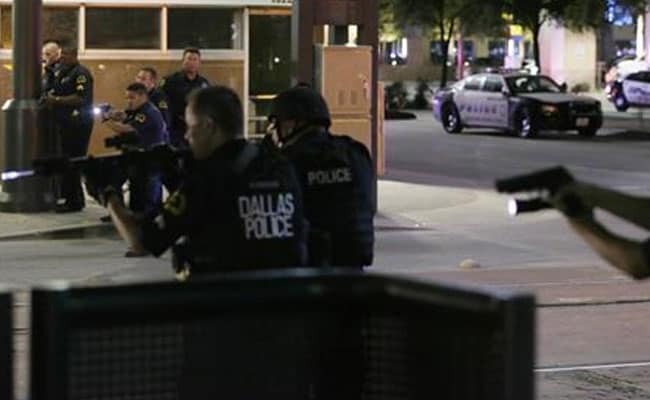 The protests in Dallas were among several across the country that were held after a Minnesota officer on Wednesday fatally shot Philando Castile while he was in a car with a woman and a child in a St Paul suburb. The aftermath of the shooting was live-streamed in a widely shared Facebook video. A day earlier, Alton Sterling was shot in Louisiana after being pinned to the pavement by two white officers. That, too, was captured on a cellphone video.
Video footage from the scene showed that protesters were marching along a street in downtown, about half a mile from City Hall, when the shots erupted and the crowd scattered, seeking cover.
Mr Brown said that it appeared the shooters "planned to injure and kill as many officers as they could."
"In times like this we must remember - and emphasize - the importance of uniting as Americans," said Texas Governor Greg Abbott.
The search for the shooters stretched throughout downtown, an area of hotels, restaurants, businesses and some residential apartments. The scene was chaotic, with helicopters hovering overhead and officers with automatic rifles on the street corners.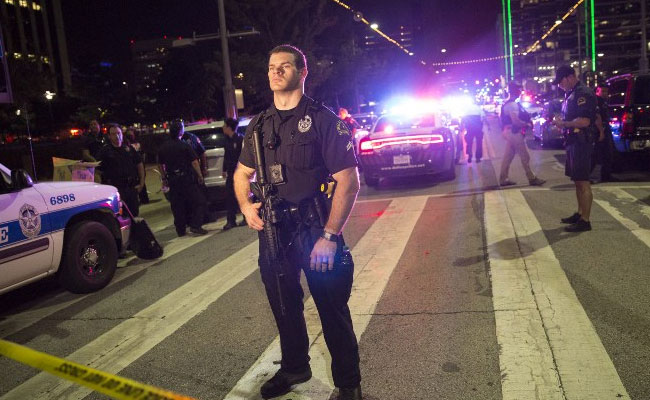 "Everyone just started running," Devante Odom, 21, told The Dallas Morning News. "We lost touch with two of our friends just trying to get out of there."
Carlos Harris, who lives downtown told the newspaper that the shooters "were strategic. It was tap tap pause. Tap tap pause."
Demonstrator Brittaney Peete told The Associated Press that she didn't hear the gunshots, but she "saw people rushing back toward me saying there was an active shooter."
Peete said she saw a woman trip and nearly get trampled.