India News | Edited by Debjani Chatterjee with inputs from agencies | Thursday June 14, 2018
The BJP lawmaker from Madhya Pradesh who had questioned Virat Kohli's patriotism and told girls not to have boyfriends has come up with another gem. "Woman should rather remain infertile than produce kids who are not sanskari," said Pannalal Shakya on Wednesday, at a public rally in Guna, which he represents in the state assembly.
India News | NDTV News Desk | Monday March 26, 2018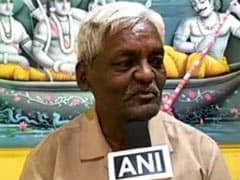 The BJP lawmaker from Guna, who questioned Team India captain Virat Kohli's patriotism after his wedding in Italy, has stepped into another controversy with a speech that stunned his audience and triggered anger on Twitter. "We should stay away from western culture, shouldn't make boyfriends or not even girlfriends," Pannalal Shakya, 57, said.