Thiruvananthapuram:
Former Indian Ambassador to the UN TP Sreenivasan was slapped and manhandled by student activists at an event in Kerala today, TV visuals showed.
The activists were allegedly linked to the Student Federation of India, the student wing of the Communist Party of India-Marxist.
Mr Sreenivasan was reportedly coming to greet delegates at an international education meet when he was heckled by protesters demonstrating against "commercialising of higher education" outside the Leela Convention Centre in Thiruvananthapuram.
One of the protesters was seen slapping Mr Sreenivasan on the face. He fell down on the road and was seen being helped by a person. A large number of police were present at the location.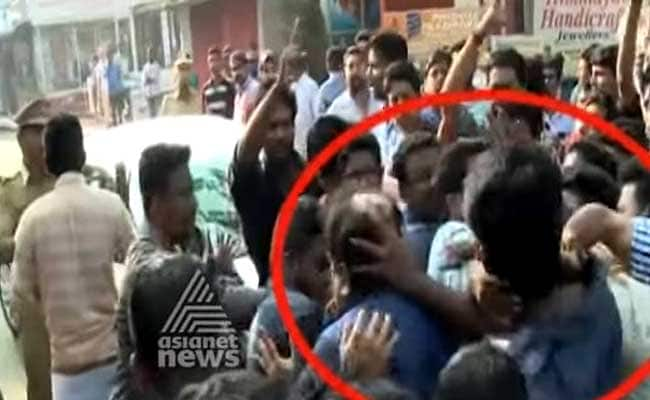 Speaking to NDTV, Mr Sreenivasan said, "The Home Minister called me and said he was going to take action but I don't know what. The person has been identified. He is a joint secretary of the SFI. They had said yesterday they would get the conference cancelled at any cost. And that is what they tried to do."
The 72-year-old former diplomat, father of Sree Sreenivasan a well-known technology journalist, is the Vice Chairman and Executive Head of Kerala State Higher Education Council.
Activists of the Students' Federation of India had gathered in front of the Global Education meet venue, alleging that it was meant for further commercialising higher education sector and allowing entry of foreign universities.
The students were later arrested and removed, police said, but a tense situation prevailed in the area since this morning.
Communist Party of India-Marxist district secretary Kadakampally Surendran alleged that the government was using police against students.
On being informed of the assault, Mr Surendran offered an apology on behalf of the students but said Mr Sreenivasan should not have gone to speak to the students as the situation was "tense".