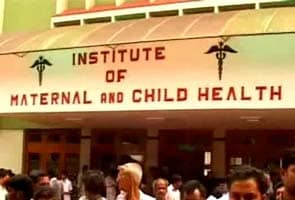 Thiruvananthapuram:
A three-year-old girl has had two surgeries at a Kozhikode hospital and doctors say she could take months to recover, after she was kidnapped while asleep next to her mother and raped in Mallapuram district of Kerala.
The medical superintendent of the hospital, who has attended to the child, said she has severe internal injuries caused by a blunt object. A smear test report is expected within two weeks, but preliminary medical investigations indicate rape, he said. The child is now out of danger but still in the intensive care unit of the hospital.
She was asleep beside her mother, a rag-picker who migrated from neighbouring Tamil Nadu, on a roadside pavement in Tirur when she was kidnapped on Monday night. The mother says she noticed only in the morning that the child was gone.
She was found unconscious by the side of a government school on Tuesday morning by some students. They said she had high fever and ants crawling all over her body.
The three-year-old was taken by the police to a Tirur hospital, which said her injuries were too grievous and referred her to the hospital in Kozhikode, about an hour away.
Twelve people have been questioned, but there have been no arrests yet.
Despite country-wide outrage and debate on crime against women galvanising the government into framing tougher anti-rape laws, more rapes are being reported by the day. Six rapes have been reported in the national capital region in the last three days. And in Nagpur, a 12 -year-old was raped at her school on Monday morning.