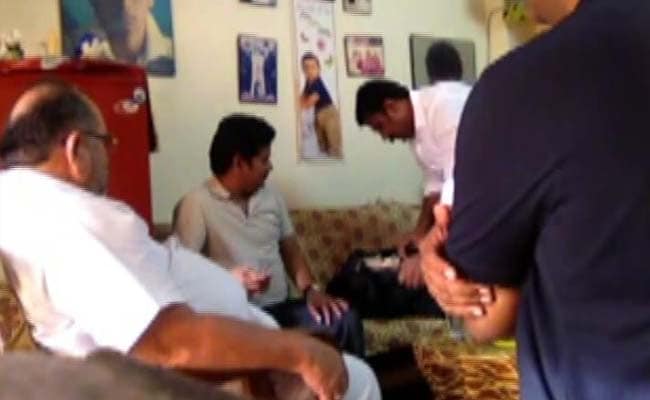 Hyderabad:
A day after getting bail from Hyderabad High Court, Telangana TDP MLA A Revanth Reddy and two others were today released from Cherlapally Central Prison in Hyderabad, with scores of cheering supporters of Mr Reddy raising slogans and waving Telugu Desam flags.
Mr Reddy, waving the TDP flag, greeted the huge gathering even as he was showered with flowers as he came out of the jail premises.
Amid bursting of crackers and drum beats, the party workers and his supporters celebrated his release as he was being taken in a procession from the jail towards the TDP headquarters in Banjara Hills. The followers were seen garlanding Mr Reddy who shook hands with them.
Earlier, family members of Revanth Reddy and his relatives and a large number of party leaders and workers gathered near the Cherlapally Central Prison.
Revanth Reddy, the prime accused in the cash-for-vote case along with two others accused - Bishop Harry Sebastian and R Uday Simha - were granted bail by Hyderabad High Court yesterday with a direction to furnish a personal bond of Rs 5 lakh each and two sureties of the like amount.
They were asked to cooperate with the investigating agency (Anti-Corruption Bureau). Mr Reddy was also asked to surrender his passport and not to leave his Assembly constituency.
Meanwhile, a group of Osmania University students held a protest against the release of Mr Reddy and burnt his effigy.
In a related development, party legislator Sandra Venkata Veeraiah against whom a notice was served by the Telangana Anti-Corruption Bureau (ACB) seeking his appearance before them, wrote to the agency today stating that he will attend before it whenever they call him and will also cooperate with the investigation.
On June 19, TDP MLA Veeraiah, who represents Sattupally constituency in Khammam district, had written to the ACB expressing his unwilligness to appear before them on health grounds and had requested for 10-days' time to enable him to undergo treatment in a hospital in Andhra Pradesh.
On May 31, Telangana TDP MLA Revanth Reddy was caught by ACB along with Mr Sebastian and Mr Simha while paying an alleged bribe of Rs 50 lakh to Elvis Stephenson, a nominated MLA for supporting the TDP nominee Vem Narendar Reddy in Legislative Council elections on June 1.
On June 17, the ACB had questioned Vem Narendar Reddy in connection with the case.