Hyderabad:
Out for a party last evening, the inebriated son of a ruling party leader in Telangana ended the day with a fistfight and knife attack. Manish Goud, the son of Telangana Rashtra Samiti leader Ram Mohan Goud, and his friends were caught on camera at Kadgal toll plaza, about 80 km from Hyderabad. One of them was seen brandishing a knife at an injured toll plaza worker. When the other employees of the toll plaza came out, they ran away.
Ram Mohan Goud represents Lal Bahadur Nagar, a well-known commercial hub in Hyderabad. His wife is Laxmi Prasanna is a corporator from BN Reddy Nagar.
After the video went viral, in answer to a tweet, TRS minister KT Rama Rao promised action and subsequently posted an update from a senior police officer, saying they have been arrested.
A case is registered under 307 IPC and all six accused in custody
and being remanded. Update from DCP Shamshabad https://t.co/3rqdJ180gP

- KTR (@KTRTRS) August 1, 2017
On Monday night, Manish Goud and his friends -- Tarun Reddy, Sai, Nitish, Anirudh and Avinash Reddy – were on their way home from a function hall built by the TRS leader in Maisigandi. It was around 10 in the night and all six men were drunk. They tried to drive through the closed gate of the toll plaza.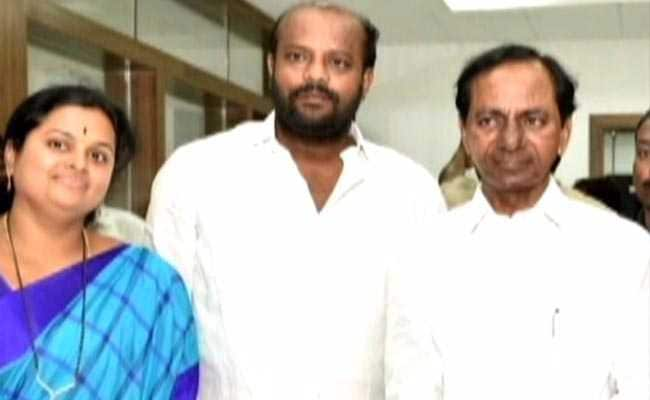 The police said when the toll plaza attendant asked for the fare – Rs 35 – the legislator's son was furious. "How dare you ask me for money? Don't you know who I am?" he told the toll attendant, the police said.
One of his friends, Tarun Reddy, then pulled out a knife and injured one of the toll gate workers. His friends physically assaulted two others. In the cellphone footage recorded by one of the workers, Tarun Reddy can be seen threatening a bruised and bleeding man, whose clothes are torn.
By this time, the other staff tried to chase the drunk men, who escaped in their car. The toll gate staff then alerted the police, who caught the six men.
"They tried to run through a closed gate. We have filed a case of assault. They have been remanded in judicial custody for 14 days," said Srikanth, a sub-inspector of Kadgal police station.
Get Breaking news, live coverage, and Latest News from India and around the world on NDTV.com. Catch all the Live TV action on NDTV 24x7 and NDTV India. Like us on Facebook or follow us on Twitter and Instagram for latest news and live news updates.