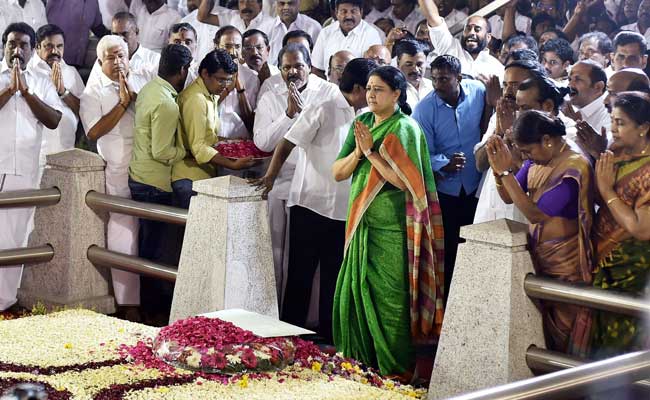 Highlights
VK Sasikala meets lawmakers huddled at resort outside Chennai
Had written to Governor earlier today, requesting appointment
Sasikala has been challenged by O Panneerselvam for Chief Minister's job
Chennai:
VK Sasikala may lead a hunger strike
by her legislators at Former Chief Minister J Jayalalaithaa's memorial in Chennai today if the Governor doesn't invite her to form the government, sources have said.
It has been more than two days since she
staked claim to the Chief Minister's post
after O Panneerselvam submitted his resignation but Governor C Vidyasagar Rao appears to be inclined to invite her only after the Supreme Court delivers its verdict in the appeal against her acquittal in a corruption case. The order is expected next week.
Though Ms Jayalalithaa, who died in December, and Ms Sasikala, her closest confidante, were convicted by a lower court, the Karnataka High Court had acquitted them. The Karnataka government however had challenged the order.
"The MLAs may also protest at the party headquarters or at the Poes Garden residence of Jayalalithaa if police don't let them gather elsewhere," a leader of the AIADMK said, requesting not to be named.
On Saturday, after meeting 127 legislators huddled at a private resort 80 km away from Chennai, Ms Sasikala said, "The attempt to take time, it appears, is an attempt to create a split in the party. We would protest in a different way tomorrow."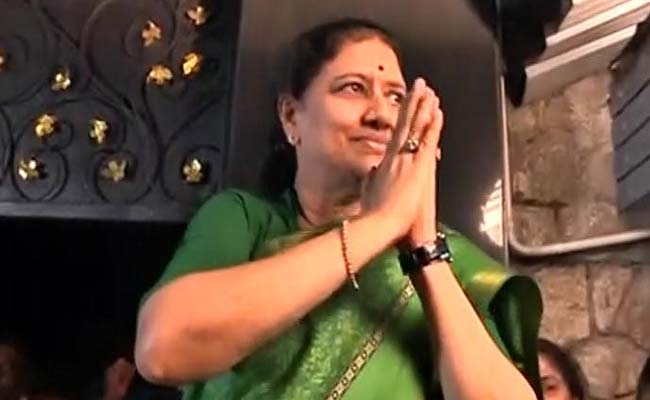 Already seven legislators including School Education Minister K Pandiarajan have switched to Chief Minister O Panneerselvam's camp. Besides three sitting MPs including Dr V Maitreyan, veterans PH Pandian, E Madhusudhanan and C Ponnaiyan too have switched camps. Although Mr Panneerselvam's current tally officially stands at just nine, Ms Sasikala's team is worried they will not be able to prove a 118-member majority in the House even if close to a dozen more lawmakers cross over.
The caretaker Chief Minister, once a staunch Sasikala-loyalist, now claims he was forced to resign to pave way for her to take over. He is not averse to withdrawing his resignation.
Though Ms Sasikala is not a convict at the moment and a non-legislator can be sworn in as a Chief Minister, Raj Bhavan sources say, the Governor "appears to be worried what if any adverse verdict makes it impossible for Sasikala to contest".
"This is clearly an attempt by Sasikala to become Chief Minister at least for a day by hook or crook. Why is the urgency when an important verdict is expected?" a political analyst who did not want to be named said.
However, AIADMK has all along been arguing that legally nothing bars Ms Sasikala from becoming the Chief Minister.
The city police meanwhile is not taking any chances. Police Commissioner S George said that vigilance against "anti-social" activities and attempts to break the law or trigger violence has been stepped up.