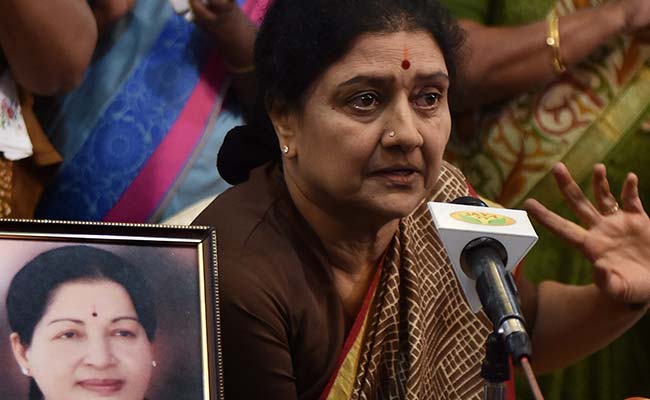 Highlights
Sasikala is guilty in corruption case, rules Supreme Court
Sasikala asked to surrender immediately; she will now go to jail
This ends her bid to be Chief Minister of Tamil Nadu
Chennai:
The Supreme Court will at 10:30 this morning rule on whether VK Sasikala, AIADMK chief, is guilty of helping former Tamil Nadu Chief Minister J Jayalalithaa amass illicit wealth worth over 60 crores in the 1990s. The verdict will decide the political career of Ms Sasikala, who has staked claim to be Tamil Nadu's next Chief Minister. If the court upholds a High Court verdict acquitting Ms Sasikala, there will no legal impediment in her taking oath as Chief Minister. If it convicts her, she will be sent to jail and cannot hold public office or contest elections for the period of her jail term and six years after that. Justices Pinaki Chandra Ghosh and Amitava Roy will give separate judgements - they could give concurring judgements or differing judgements. If there is a split verdict, the case will be referred to a three-judge bench which will hear it all over again. If that happens, Ms Sasikala can be sworn in as Chief Minister. After she takes oath, she will have to prove that she has majority support in the state assembly through a trust vote.
Here are the 10 latest developments of this big story:
There is massive security at key places in Chennai like Ms Sasikala's Poes Garden residence and the Raj Bhawan where the Governor lives. About 15,000 cops have been posted across the city and the police have arrested thousands to prevent trouble.

Ahead of the Supreme Court verdict, Ms Sasikala, 61, spent the night at the five-star Golden Bay Resort resort in Mahabalipuram, 80 km from Chennai, along with about 120 legislators whom she has sequestered for almost a week. If she is acquitted today the ruling party plans a massive victory rally from the resort back to Chennai.

Ms Sasikala's claim to the Chief Minister's post has been challenged by interim Chief Minister O Panneerselvam, who took charge of the state after J Jayalalithaa died in December and who now says he must remain in the top post. Mr Panneerselvam has alleged that he was coerced into quitting last week.

Mr Panneerselvam has also alleged that Ms Sasikala's claim of having the support of 127 of the party's 134 legislators is exaggerated. Many of them, he says, are being held "captive" at the resort and will vote for him if "set free and allowed to decide."

Nine legislators including a minister have joined Team Panneerselvam over the last few days, two of them since last night. It also has the support of several influential party MPs.

Both Ms Sasikala and Mr Panneerselvam met Tamil Nadu Governor C Vidyasagar Rao last week and presented their claim to take a trust vote ahead of the other. He reportedly indicated that Ms Sasikala would get first shot. However, six days later, he is yet to reveal his decision and is reportedly waiting for the Supreme Court verdict in the corruption case.

A trial court had convicted Ms Jayalalithaa and Ms Sasikala and sentenced them each to four years in jail. Both spent a few months in jail before the Karnataka High Court overturned the trial court order acquitting them. The Karnataka government had appealed against the acquittal and the top court had reserved verdict in June last year.

Sources said the centre's top lawyer Attorney General Mukul Rohatgi has advised him to order a special session of the state assembly for a composite floor test within a week. All Tamil Nadu's 234 lawmakers will vote to decide whether Ms Sasikala has a majority or Mr Panneerselvam does, by declaring their support for one of them with a written signature.

In view of the competing claims made by the two AIADMK leaders, how the opposition, particularly the DMK, with 89 MLAs, votes will also be watched keenly if a composite floor test is held. To win a trust vote in the assembly, Ms Sasikala will need 118 signatures of support. Opposition parties may abstain. Ms Sasikala had earlier approached the DMK's partner Congress, which has eight legislators, to support her.

The local police said in a report to the Madras High Court on Monday that there are 119 legislators at the resort and none of them say they being held there by force. The court had asked the police to investigate where two MLAs were based on a petition.