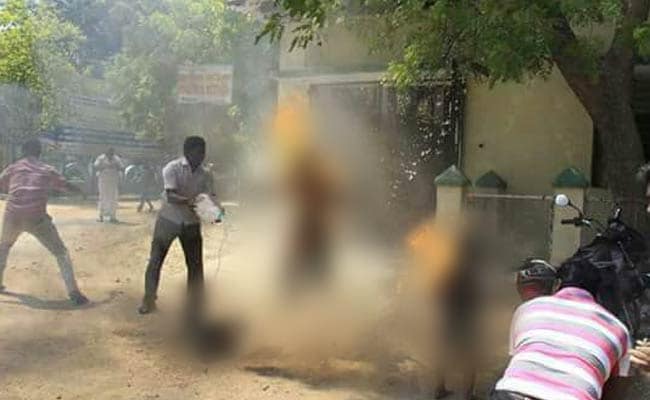 New Delhi:
The National Human Rights Commission today issued a notice to the Tamil Nadu government over a couple setting themselves and their children ablaze after alleged harassment by moneylender and police in the state's Tirunelveli district.
In a statement, the commission said that the incident, pictures of which went viral on social media, was not only "shocking" but betrayed a total lack of responsibility on the part of the police and officials concerned.
The couple, Isakki Muthu and Subbulakshmi, had set themselves and their two children, aged two and five, afire outside the Tirunelveli collectorate complex on October 23.
Subsequently, the wife and the children had died of burn injuries. Police said Isakki Muthu died today at a government hospital in Tirunelveli.
The commission issued the notice taking cognizance of a complaint that the couple took the extreme step after their repeated petitions to the collector seeking relief from unwarranted harassment by a moneylender fell on deaf ears.
"Despite having paid Rs 2.34 lakh towards the principal and interests against the loan of Rs 1.45 lakh, the victim was facing harassment from the moneylender for payment of Rs 2 lakh more," the statement said.
Under the notice, the Tamil Nadu Chief Secretary, Director General of Police, District Collector and Superintendent of Police have been asked to submit a report within four weeks to the commission.
In the statement, the commission also observed that Muthu, a labourer, had submitted petitions to the Tirunelveli Collector at six weekly Grievance Redressal meetings for the police intervention in the matter.
However, the local police, instead of taking action on his complaints, had been harassing the victim's family in connivance with the moneylender, it said.
"It transpires that in many parts of the State, usurious interest rate is being charged by the moneylenders and in the event, the borrowers fail to pay the interest, they are physically and mentally harassed.
"Further, the concerned authorities are not taking appropriate action in the matter. Rather people are being harassed by the police in connivance with moneylenders," the NHRC said.