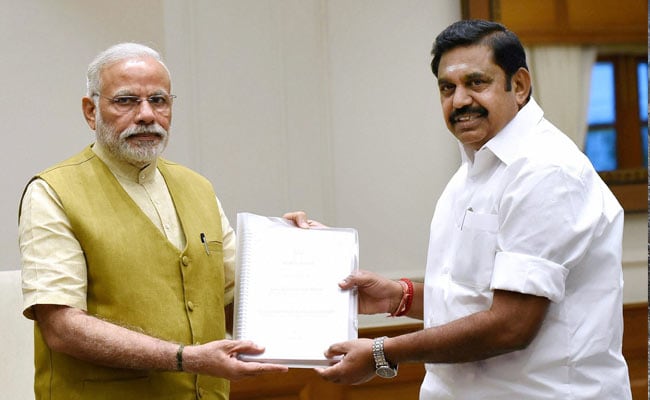 New Delhi:
Tamil Nadu Chief Minister Edappadi K Palaniswami on Monday appealed to Prime Minister Narendra Modi to immediately release relief funds for the drought-hit state and for the damage caused by Cyclone Vardah.
Reiterating the state's demand, Mr Palaniswami sought Rs 39,565 crore as drought relief package and Rs 22,573 crore for the damage in the cyclone.
Speaking to reporters after meeting the Prime Minister, Mr Palaniswami said, "We have also sought Rs 17,333 crore under various other central schemes."
The Chief Minister also put forth the demand to stop hydrocarbon extraction project in Neduvasal in Pudukkottai district that has attracted largescale protests recently.
"We have asked the PM not to take forward the Centre's Hydrocarbon extraction project without consultation with concerned farmer community and the state government's permission," he said.
Mr Palaniswami avoided a question on the arrest of protesters in Neduvasal.
On the issue of the medical entrance exam NEET, a request has been made seeking the Centre's assent for a state legislation exempting students of Tamil Nadu from taking up the entrance exam.
"We have asked the Centre to ratify a legislation that has been passed in TN Assembly exempting TN from NEET," he said.
"We have also asked the Centre to fulfil our demand for setting up AIIMS at Tanjavur," the Chief Minister said.
Demand for setting up of Cauvery Management Board, Cauvery Water Regulation Committee, Rs 1,650 crore fund for special scheme for fishermen and their release from Sri Lanka were part of a memorandum submitted by the Chief Minister to PM Modi.
On his second day in the national capital, the Chief Minister is expected to meet Union Ministers of transport, law, power and urban development.
Union Minister of State for Road Transport, Highways and Shipping Pon Radhakrishnan later met the Chief Minister and spoke about projects in the state.