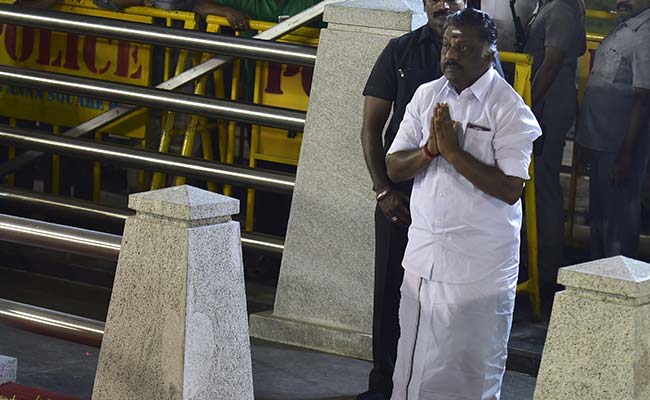 Highlights
OPS, former Chief Minister, tours Tamil Nadu ahead of election
Tour comes as his faction is negotiating a merger with rival
Talks on reconciliation in AIADMK have stalled
Chennai:
In service of his ambition to return as Chief Minister of Tamil Nadu, O Panneerselvam this evening launches a tour of Tamil Nadu. The trip, likely to be just over a month according to sources, will see him traveling by road ahead of elections to hundreds of local bodies that are coming up.
The excursion of OPS will test two important premises: his ability to connect with the masses and the much-discussed but slow-progressing reunion between his faction and the much larger wing of the ruling party that's fronted by Chief Minister E Palaniswami ("EPS" in common parlance).
Three weeks ago, the two sides appointed delegates to negotiate a merger. They have yet to meet.
OPS' tour signals that he's not holding his breath.
"The former Chief Minister has decided to address rallies across the state. He will be meeting people and party workers," said KP Munusamy, a former minister who backs OPS.
The 66 year-old has served as Chief Minister three times, the most recently after J Jayalalithaa, his boss, died while she was head of the government in December. During her lifetime, he subbed twice for her, including when she had to step down on corruption charges. His street cred as a leader is derived mainly from his stints as an efficient understudy rather than the sort of charisma or drawing power that Ms Jayalalithaa exuded.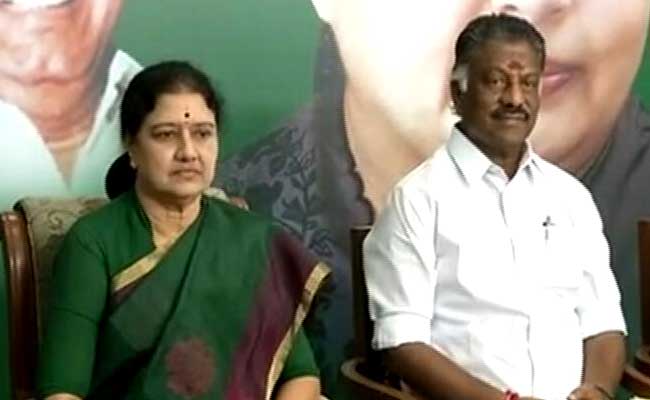 Her hold on her party was also absolute, and after her death, the party fractured into Team OPS (12 members) versus the other (122 legislators) with a substantial amount of political theatre that included claims of Ms Jayalalithaa's spirit delivering instructions on how to proceed. What delivered the party first into divergence and then towards reconciliation is the voracious ambition of VK Sasikala and her family.
Some quick exposition. Ms Sasikala lived with Ms Jayalalithaa, who treated her like family. When the politician died, the AIADMK quickly began to orbit around the aide. Ms Sasikala became party chief and installed OPS as Chief Minister. So far, so good. But then, Ms Sasikala decided to become Chief Minister herself, and OPS was made to resign. The Supreme Court, then, in a scene-stealing role sentenced Ms Sasikala to jail in a pending case of corruption involving Ms Jayalalithaa as well. Before Ms Sasikala moved to prison, she picked loyalist EPS as Chief Minister and her disreputable nephew, TTV Dinakaran, to run the party. He landed quickly in two major corruption scandals and was arrested last month.
The Sasikala clan has always been considered a public hazard in Tamil Nadu as evidenced by it being referred to as "the Mannargudi Mafia" after its homestead. The arrests of Ms Sasikala and her nephew have done little to whittle away at that reputation and gave OPS a considerable leg up in stature and public support. The other side came calling to seek a rapprochement.
But both EPS and OPS want to be Chief Minister.
Two other sticking points: OPS wants written evidence of the plans to keep Ms Sasikala and her nephew divested of power; he also wants EPS, as Chief Minister, to seek a CBI inquiry into Ms Jayalalithaa's death (his camp insinuates her death in hospital was not natural, a claim that gained so much traction that months after her death, doctors were forced to hold a press conference offering detailed accounts of her medical deterioration).
EPS has not agreed to either, which means that the factions have not withdrawn their competing claims filed with the Election Commission in Delhi to be recognised as the authentic AIADMK.
It is in this vacuum of trust and understanding that OPS is setting off from Kancheerpuram in northern part of Tamil Nadu to buff his personal brand. How well his immersive experience as a ground leader plays out will impact what he's able to win from his rival.