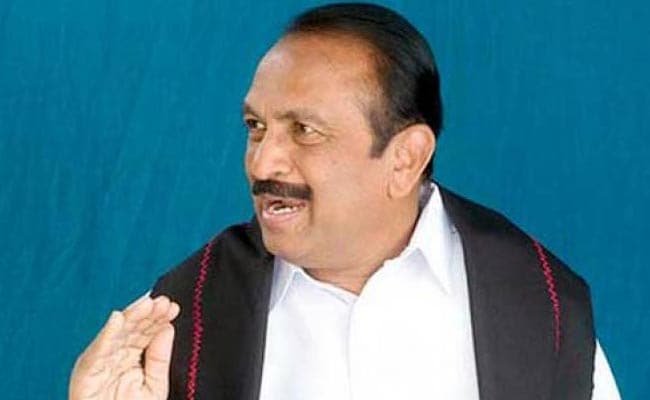 Highlights
V Gopalasamy was questioned for hours at the Kuala Lumpur airport
He was asked about his alleged links with the banned Tamil Tigers LTTE
He was in jail recently over a speech he had made in 2009
Kuala Lumpur:
Tamil Nadu politician Vaiko or V Gopalasamy was denied entry into Malaysia on Friday and accused of being a supporter of the banned LTTE during hours of questioning at the Kuala Lumpur airport. The MDMK chief was to attend a wedding at the invitation of P Ramaswamy, the Deputy Chief Minister of Penang province.
After his inquisition, the 73-year-old was detained at the airport to be sent back to Chennai in the evening. Mr Vaiko was told that he was barred from entering Malaysia because his name was on a list of people who are dangerous to the country.
"I have been kept in a place where I cannot meet anybody," he was quoted as telling the IANS news agency.
The politician was to attend Mr Ramaswamy's daughter's wedding reception on Saturday.
As he arrived in Kuala Lumpur, he was stopped at the immigration counter. Officials reportedly accused him of being a member of the LTTE or the Liberation Tigers of Tamil Eelam, repeatedly, despite his strong denial.
The MDMK said Mr Vaiko told them he is an Indian citizen and showed his passport but it was not accepted. The party also pointed out that he had been granted a visa by the Malaysian consulate in Chennai.
Efforts by Penang Chief Minister Lim Guan Eng to get Mr Vaiko into Malaysia also failed because he was told that orders for the ban on his entry had come from the Deputy Prime Minister's Office.
Mr Vaiko was asked to sit in the immigration office and not go anywhere, the MDMK alleged. The officials allowed an aide of Vaiko to get him something to eat, but he reportedly refused.
Workers of the MDMK protested at the Malaysian consulate today.
Mr Vaiko was jailed recently in a sedition case over a speech he had made in 2009.
In that speech, he had criticized the government in connection with Sri Lanka's war on LTTE. He had warned that India would not remain a united country if the Sri Lanka operation was not brought to an end.