Chennai:
Highlights
J Jayalalithaa laid to rest at Marina Beach, next to mentor MGR
Close aide Sasikala Natarajan performs last rites
Leaders pay last respects to former Tamil Nadu Chief Minister
J Jayalalithaa
, Tamil Nadu's beloved Amma (mother), was
buried this evening on Chennai's Marina Beach
, with lakhs gathered and united in an immense but peaceful show of grief.
A red carpet was laid around the grave where her coffin, made of sandalwood, was lowered just after sunset. Around it stood some of the country's most powerful leaders. Outside, the roads were grid-locked with people who wanted one final glimpse at the iconic Iron Lady. "
Amma Vazhga
" they chanted (long live Amma). As far as the eye could see, they stood. Women broke into wails, clutching their chests in mourning. Some said they had walked between seven and ten kilometres.
The state funeral included a guard of honour at the beach, where the 68-year-old politician was laid to rest next to MG Ramachandran. The pair starred together in several blockbuster Tamil films before shifting to politics. Ms Jayalalithaa's burial, rather than a cremation, is seen as in keeping with the Dravidian movement, rationalist and pivoted against Brahmin rituals, a movement whose leaders have dominated Tamil Nadu politics for decades.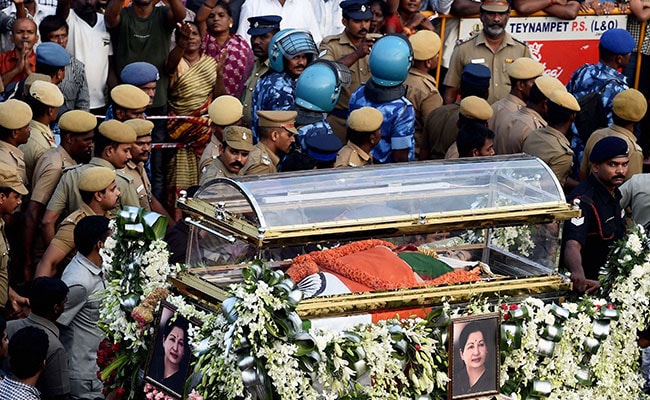 The last rites were performed by Sasikala Natarajan, who lived for years with Ms Jayalalithaa and was her most trusted confidante. Dressed in a black sari, Ms Natarajan stood red-eyed as the coffin was lowered slowly, rose petals and pieces of sandalwood showered upon it to form a thick blanket.
Through the day, the body of Ms Jayalalithaa, who died last night after a cardiac arrest, was placed on a raised platform in a glass casket. Lakhs showed up, the crowd never ebbing till the casket was moved at 4.30 pm for Marina Beach.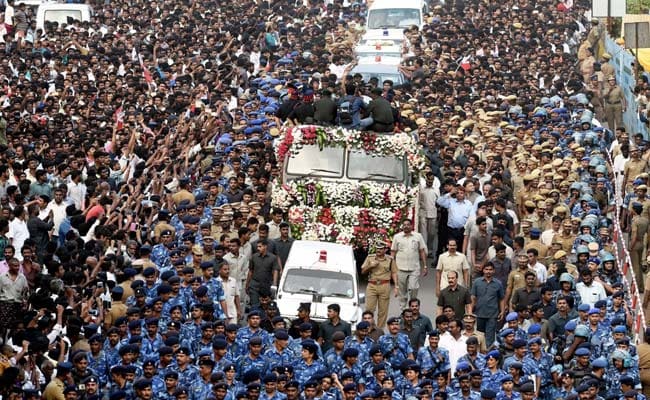 Thousands of policemen stood guard to ensure against the endless sea of supporters from morphing into violence. Jayalalithaa's fans have a proclivity for self-harming and violent shows of loyalty. When she was arrested on corruption charges in 2014, they shaved their heads and attacked public buses and property. The Supreme Court was forced to ask her to issue an appeal for calm, which she did, from within prison. Her party said 200 people committed suicide in anger over her imprisonment. She was acquitted later and returned to office.
Ms Jayalalithaa made political history earlier this year when she was re-elected for a second consecutive term, a practice alien to Tamil Nadu for three decades. She was seen as a powerful if authoritarian administrator who maintained a hold over the people's affection despite increasingly rare appearances on account of her health. Much of her appeal lay in her women-friendly giveaways: free mixer-grinders, laptops and other household goods were used to win voters. The rural poor benefited from her
many welfare schemes
and it was among them that she was most revered with a fervor bordering on the religious.
Get Breaking news, live coverage, and Latest News from India and around the world on NDTV.com. Catch all the Live TV action on NDTV 24x7 and NDTV India. Like us on Facebook or follow us on Twitter and Instagram for latest news and live news updates.