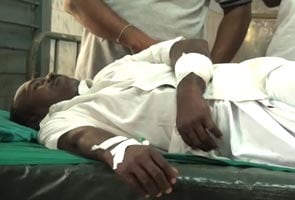 Chennai:
Five Indian fishermen were attacked in the seas allegedly by Lankan navy in the Indian water last night.
The Lankan naval personnel yesterday attacked the fishermen with wooden logs, stones and bottles, resulting in bone fracture of a 25-year-old youth and serious injuries to others, they said.
One of the injured fishermen has been admitted to in a hospital in Ramanathapuram. Several other fishermen, whose back were swollen with weals and bruises, were being treated at private hospitals, police said.
The youth said it was a "brutal" attack by the Lankan navalmen who surrounded 25 boats of the fishermen. "They damaged the boats, snapped the fishing nets and lashed out at us with logs and pelted stones," he said.
The Ministry of External Affairs has asked Colombo to take up reports of attack on Indian fishermen with the concerned Sri Lankan authorities.