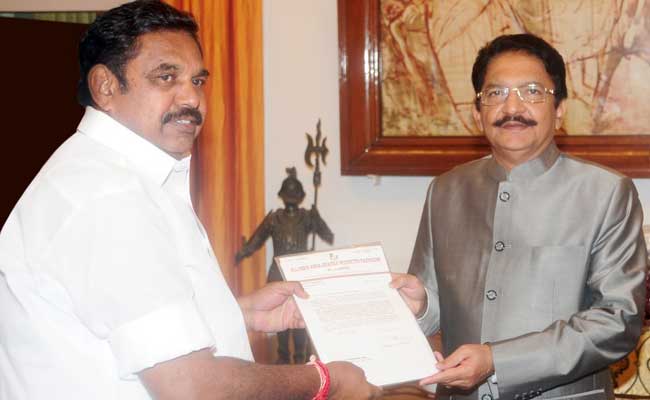 Highlights
Governor to decide who will take oath as Tamil Nadu's next Chief Minister
Swearing-in ceremony could be held as early as this evening
Floor test to prove majority would have to take place within 3 days
Chennai:
Governor C Vidyasagar Rao is expected to decide by this afternoon who will take oath as Tamil Nadu's next Chief Minister and, sources said, is likely to invite E Palaniswami. The swearing in ceremony could be held by this evening and a floor test within three days of that for the new chief minister to prove he has majority support in the state legislature.
Governor Rao had heard competing pitches on Wednesday night from within the AIADMK, first meeting Mr Palaniswami, hand-picked by party chief VK Sasikala and who claimed the support of 124 state legislators. He then met acting Chief Minister O Panneerselvam, who says he has the support of 11 legislators, but expects many more to back him once they are "free" from what he calls
"captivity" at a five-star resort near Chenna
i.
On Thursday morning, 124 of the party's 134 legislators or MLAs, including Mr Palaniswami were still at the Golden Bay Resort in Mahabalipuram for the ninth day, but several told reporters that they were not being pressured to stay and that they would do the bidding of the "high command" or Ms Sasikala, who was jailed in Bengaluru on Wednesday to serve four years for corruption, putting end to her bid for chief minister. Ms Sasikala has chosen her loyalist Mr Palaniswami in her place to ensure she keeps control of the party and government from jail.
Both camps have offered to take a trust vote and presented the Governor with a list of legislators supporting them.
There has been no official word yet from the Governor, who has consulted legal and constitutional experts. One suggestion that he has received, from the centre's top lawyer Attorney General Mukul Rohatgi, is that Governor Rao could ask for a composite floor test - which means that all 234 legislators in Tamil Nadu would have to vote for either of the candidates - Mr Panneerselvam or Mr Palaniswami - and attest it with a signature.
He could also call Mr Palaniswami as the leader of the biggest group to take oath and then prove in a vote of confidence, that he has a majority or the support of 117 MLAs or more in the 235-member state assembly.
Vastly outnumbered, the camp of Mr Panneerselvam or OPS has pinned its strategy on a handful more party MLAs crossing over to its side - it needs less than ten for Mr Palaniswami to be short of the majority mark. Mr Panneerselvam, who says he had to resign under pressure last week, has appealed to party MLAs to unite and back him. One legislator who left the resort to join Mr Pannerselvam has filed a police case alleging that he was "kidnapped" and taken there.
Team Sasikala said it expects an invitation to form government today and has accused the Governor of "inordinate delay." The AIADMK launched an online campaign yesterday asking the public to complain in writing to Prime Minister Narendra Modi about the delay, which it alleges, allowed Mr Panneerselvam to engineer defections.
The Governor's go-slow - he waited for the Supreme Court's decision in the corruption case against Ms Sasikala - has however found support from the BJP-ruled centre and also the Congress' P Chidambaram, who said, "The Supreme Court judgement was imminent, the Governor was right in deferring decision. The AIADMK should realise that they are on a perilous and suicidal course."