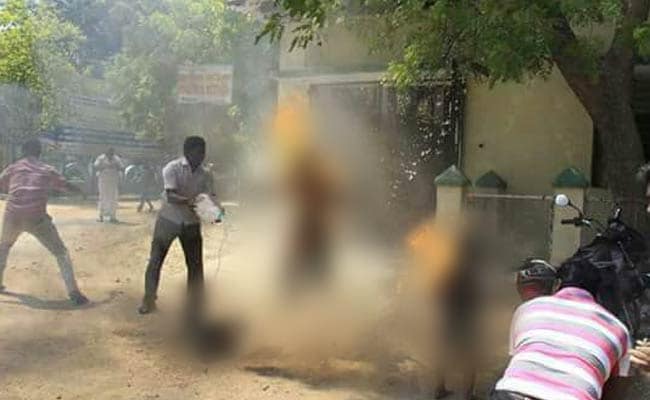 Tirunelveli:
Allegedly harassed by a money lender, a man and his wife today set themselves and their two kids on fire at the Collectorate complex here, police said.
All four members, including the children aged 2 and 5, were admitted to a hospital with severe burns, they said, adding that the parents were protesting alleged inaction of officials on their complaint against a money lender.
Isakki Muthu, 32, had borrowed Rs 1.40 lakh to start a business, his brother said, adding that Mr Muthu already repaid the lender a sum of Rs 2.34 lakh, including interest. The lender was allegedly harassing Mr Muthu for more money.
This forced Mr Muthu to approach the police, who refused to accept a complaint and even threatened him, he claimed.
Subsequently, the victim lodged a complaint with the district collector, who directed the police to initiate action against the lender under the Prohibition of Charging Exorbitant Interest Act.
Mr Muthu's brother alleged that despite repeated reminders from the collector's office, the police did nothing and in fact allegedly harassed the family even more.
Unable to put up with this, Mr Muthu, along with his wife and kids, came to the collector's office to air their grievances. The couple then poured kerosene on the family and set themselves ablaze.
Doctors at the government hospital stated the condition of all four to be "very critical".
The victim's brother demanded stern action against the officials concerned and the money lender.