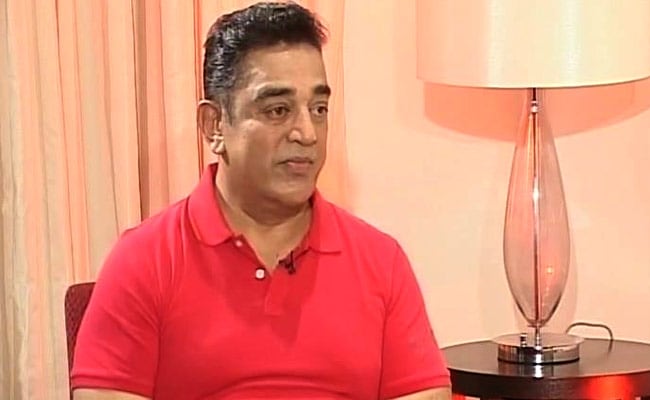 Highlights
The 'Indian' was Kamal Haasan's hit released in 1996
He has made over 200 films over the last 40 years
He met many leaders recently including Arvind Kejriwal
Chennai:
Actor Kamal Haasan and director Shankar have announced that they would do a sequel to their earlier film "Indian". The film is being seen by eager fans as the actor's last appearance on silver screen before he makes a foray into politics.
The choice of the film - which was announced yesterday on the grand finale of the Tamil Bigg Boss -is suggestive. The "Indian" - one of his hits, was released in 1996. It focussed on corruption, with Kamal Hasaan playing a dual role.
The superstar, who has made more than 200 films over the last 40 years - had been increasingly critical of the ruling AIADMK government after the death of former Chief Minister J Jayalalithaa in December. After a minister of E Palaniswami's cabinet took him on over one of his statements, he asked his fans to e-mail Tamil Nadu ministers about instances of corruption.
Last week, while making it clear that he would take the much-anticipated plunge into politics, Mr Haasan had said that he would not so in a hurry. "There's lots of work to be done. A roadmap is not easy for a rookie like me, I am unwilling to commit to any date," he had said.
His build-up had included meetings with Kerala Chief Minister Pinarayi Vijayan and more recently, Delhi Chief MInister Arvind Kejriwal. But denying speculations about a possible collaboration, Kamal Haasan said he was only "taking lessons" from the Aam Aadmi Party.
Earlier this month, Mr Haasan said he was ready to take on the role of the Chief Minister. To an interviewer commenting that "everyone wants to be the chief minister of Tamil Nadu", the actor cut in: "...including Kamal Haasan, who dares to say that if there's the possibility, he will come."
On his suitability to enter politics, Mr Haasan had told NDTV "I am honest. For 37 years I have been heading a band of people who have been involved in social service".