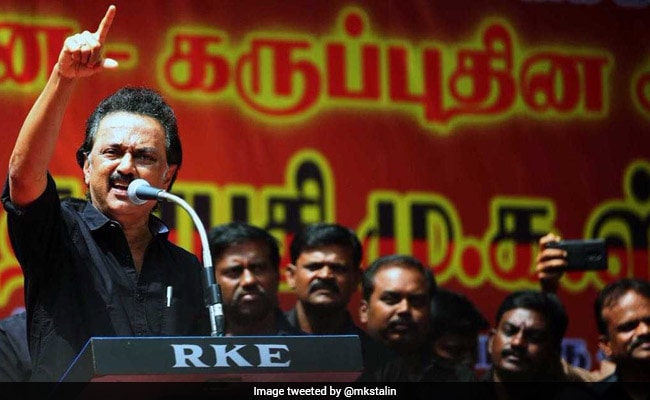 Chennai:
DMK leader MK Stalin on Thursday said party legislators have decided to boycott the presentation of state budget for 2018-19 in protest against inaction of the state and the central government in setting up the Cauvery Management Board (CMB).
Speaking to reporters in Chennai Mr Stalin said DMK legislators wore black shirts as a mark of protest on the inaction in setting up CMB and the Cauvery Water Regulatory Committee (CWRC) as directed by the Supreme Court on February 16.
Mr Stalin recalled the decision taken at the all-party meeting to meet Prime Minister Narendra Modi and urge him to set up the CMB.
However, PM Modi had suggested the all-party delegation to meet the Union Minister for Water Resources Nitin Gadkari first.
According to Mr Stalin, suggestion was made to Chief Minister K Palaniswami to convene the assembly and pass an unanimous resolution urging the centre to set up the CMB.
But the state government did not take any action towards this; hence the DMK party has decided to boycott the budget presentation.
Apart from DMK, members of its alliance parties IUML and Congress walked out of the house.
Later Deputy Chief Minister O Panneerselvam began his budget speech.