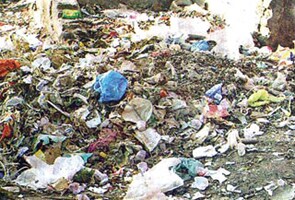 Chennai:
A Chennai-based company has been pioneering a first-of-its kind technique in the whole of Asia to extract crude oil from plastic waste over the past three years at a plant at Alathur. The company, M K Aromatics, which has attracted the attention of civic authorities in states including Karnataka and Kerala, is yet to find takers in Tamil Nadu. The company's efforts are towards finding a solution to reduce the plastic waste menace.
The Tamil Nadu Pollution Control Board, for its part, is planning to extend its support to this eco-friendly measure by purchasing diesel from the company to power its generators. According to Karthikeyan, Member Secretary of Tamil Nadu Pollution Control Board, one ton of plastic waste can yield 800 litres of crude oil, which can later be distilled into diesel and various other forms of petroleum-products.
"Three hundred tonnes of plastic waste is generated in Chennai per day. If this can be used ideally, a significant amount of high quality crude oil can be generated, thereby solving the plastic menace," said M K Merchant, managing director of the company, talking to City Express.
"We are pushing Chennai Corporation authorities to get permission to set up such plants within the Kodungaiyur and Perungudi dump yards," said Merchant. "This will help reduce the amount of plastic waste in these dump yards and will also help increase the life expectancy of the dump yards," he added.
"Bangalore municipality has made arrangements for our plants to be set up at all four dump yards in the city," Merchant informed. When most cities are making use of the Chennai-based facility, it continues to remains a question as to when our own Corporation will make use of it.
Follow NDTV for latest election news and live coverage of assembly elections 2019 in Maharashtra and Haryana.
Subscribe to our YouTube channel, like us on Facebook or follow us on Twitter and Instagram for latest news and live news updates.