Chennai:
TTV Dinakaran, the AIADMK's sidelined number 2, slammed the Tamil Nadu government over raids at former Tamil Nadu Chief Minister J Jayalalithaa's Poes Garden residence in Chennai late on Friday evening calling the move as "betrayal" and "political vendetta".
Alleging that Tamil Nadu Chief Minister E Palaniswami and his deputy O Panneerselvam were indulging in "vendetta politics", Mr Dinakaran said, "Poes Garden is a place where our beloved Amma's (Jayalalithaa) lived, it is like a temple. E Palaniswami and Panneerselvam have betrayed Amma's soul."
He also attacked Prime Minister Narendra Modi and Finance Minister Arun Jaitley over the raids. "PM Modi and Arun Jaitley are trying to destroy our family using the I-T Department," Mr Dinakarana said, adding that "OPS and EPS will go to any extent to safeguard their positions."
The search, according to the officials, was limited to two rooms that were used by VK Sasikala, the closest aide of Ms Jayalalithaa who died last year in December, and a third room used by the AIADMK matriarch's personal secretary S Poongundran.
"It was a limited exercise...
We searched only the office of S Poongundran and two rooms of Sasikala," a senior tax official told NDTV.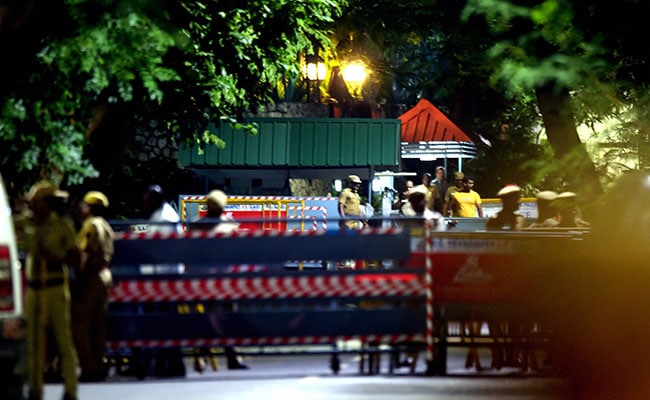 Income tax department sources indicated that the raids at Poes Garden were carried out after inputs that electronic storage devices were being secretly moved out of the premises. Ms Sasikala had continued to live in this house after Ms Jayalalithaa's death till she was sent to jail in a corruption case. A laptop, a desktop computer and four pen drives had been seized and were being scrutinised, an official said.

Mr Dinakaran also took a dig at PM Modi for his recent meeting with DMK chief K Karunanidhi in Chennai. "When Jayaalalithaa was in hospital (PM) Modi never visited her. Now he visits Karunanidhi," he said.
"We are hurt because of these I-T raids... We did not allow I-T officials to search Amma's room," said Jaya TV managing editor Vivek Jayaraman, a relative of Ms Sasikala. He, however, said, "I have no answer to questions whether this is political vendetta," he said.
Friday's searches are seen as a follow-up to the mega raids carried out by tax officials last week at Jaya TV and Sasikala's relatives. In the raids that lasted five days, taxmen searched 10 "assesse groups", which included those linked to Ms Sasikala, her brother VK Divakaran and his associates, at 187 locations across Tamil Nadu, Andhra Pradesh, Puducherry and Delhi over suspected tax evasion.


Income Tax officials were reported to have detected undisclosed income of Rs.1,430 crore in the raids. Those searches had also led the tax department to several shell companies floated by the Sasikala family.
Though Jaya TV had been the mouthpiece of the AIADMK for years, the channel turned a bitter critic of the E Palaniswami government after he joined hands with the rebel group led by O Panneerselvam, eventually edging out Dinakaran and his aunt Sasikala from their posts in the party.
Supporters of Sasikala also flocked to Poes Garden against the raids but a large posse of policemen deployed around the house kept them at a distance and later detained them.