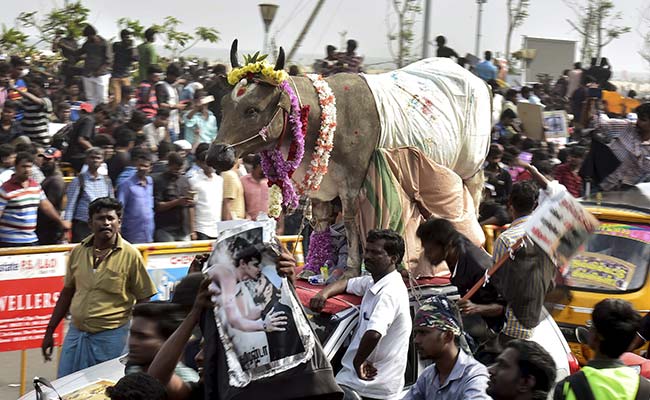 New Delhi:
Two people were trampled to death and dozens wounded in southern India during the controversial bull-taming sport that resumed Sunday after tens of thousands of demonstrators mounted unprecedented pressure this week on the government to overturn a ban.
The rural bull-taming sport called Jallikattu, which is integral to the annual harvest festival for many in the southern Indian state of Tamil Nadu, was banned by the Supreme Court in 2014 after animal rights activists highlighted several incidents of abuse.
But as supporters of the popular sport mobilized in huge numbers across the state all week, Prime Minister Narendra Modi approved an ordinance written by the state government in Tamil Nadu to remove bulls from a list in the national law that prohibits cruelty to animals. The ordinance is a temporary executive order that lasts six months.
Modi's government also requested the Supreme Court, which is considering review petitions, to defer a verdict on the legality of the sport.
During the game, when the bulls are let out from captivity, participants chase after them and try to tame them by hanging on to their humps.
On Sunday, three districts of Tamil Nadu conducted bull-taming competitions. But protests continued as people demanded a permanent law allowing Jallikattu and a ban on the animal rights group People for the Ethical Treatment of Animals, which has campaigned against the sport.
School and college students, IT professionals, movie stars participated in the week-long demonstrations and said the sport is part of their ancient cultural traditions.
Two bull vaulters suffered severe injuries - in the lower hip and chest - during the game in Pudukottai district and died on the way to the hospital, the Press Trust of India said.
"Jallikattu cannot be stopped by anybody," the Tamil Nadu Chief Minister O. Panneerselvam told reporters. He said that his government would permanently lift the ban and promised to legalize the sport by passing a law in the state legislative assembly soon.
(Except for the headline, this story has not been edited by NDTV staff and is published from a syndicated feed.)