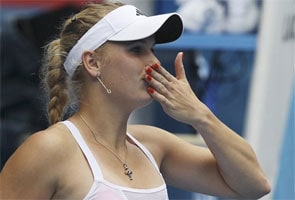 Denmark's Caroline Wozniacki reached the quarter-finals of the Australian Open for the first time when she cruised past unseeded Latvian Anastasija Sevastova 6-3, 6-4 on Sunday.
The world number one played solid but unspectacular tennis as she won her fourth consecutive match in straight sets.
The 20-year-old Dane doesn't have a weapon to kill off her opponents but is steady at the baseline and scrambles to get as many balls back as she can.
Against Sevastova, Wozniacki failed to dominate her unheralded opponent and struggled to hold serve throughout the 80-minute encounter.
However Wozniacki preyed on Sevastova's mistakes while hardly making any of her own, committing just 14 unforced errors to the Latvian's 36 over the two sets.
"I think it was a tough match out there," she said. "I got a bit of a tough start. I went out there, she didn't give me a lot of rhythm.
"She was playing pretty flat and deep with her forehand, then she was spinning it quite a bit with her backhand, not giving me too much power.
"I found it quite tough to get out there and get a rhythm."
Wozniacki then entertained reporters with a second off-beat press conference after word got back to her that the media thought her appearances were "boring".
On Friday, Wozniacki turned the tables on journalists by rattling off answers to a list of predictable questions she usually faces.
She told reporters Sunday that she had received a scratch on her leg after trying to pick up a kangaroo at a Melbourne wildlife sanctuary.
However she later used Twitter to admit the story was false.
"Round 2 with the media: (hope you enjoyed my kangaroo story, hope you know i was just kidding:) see you on Tuesday for round 3!," she tweeted. Tennis officials confirmed the story was invented.
Wozniacki moves into a quarter-final against either Svetlana Kuznetsova or Francesca Schiavone.
The Dane is playing her first major as world number one and has now reached her third successive Grand Slam quarter-final.