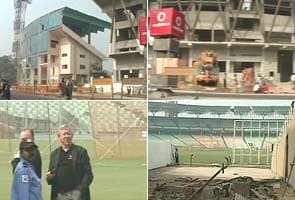 Kolkata:
There might still be some hope for the cricket fans in Kolkata. NDTV has learnt that the Chief Minister of West Bengal, Buddhadeb Bhattacharya, has now stepped in and asked ICC chief Sharad Pawar to reconsider his decision.
According to sources, Pawar has now extended the deadline till February 7 for Cricket Association of Bengal to get its act together. If by then the stadium work is completed then the India-England game can be played in Kolkata on February 27.
In a major embarrassment to the World Cup organisers, the ICC on Thursday had ruled out Eden Gardens as the host of the game between India and England.
The ICC's inspection team, which included some of the leading experts in the field of stadium and ground preparation, felt that Eden Gardens would not be ready in time.