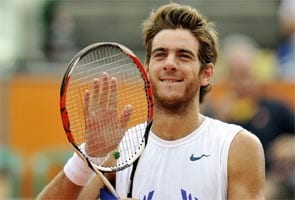 Former US Open champion Juan Martin del Potro will make his long-awaited return to the ATP Tour at the Sydney International on Monday.
Argentine del Potro, one of only two men since 2005 other than Roger Federer and Rafael Nadal to have won a grand slam, has not played on the tour since the Australian Open last January.
A wrist injury sidelined him for eight months and he said Sunday he had to battle depression to make it back to the tour.
"I had some very bad moments last year," he told reporters.
"I had my family behind me and my friends, my coaches. It was very important for me to be here today (back playing).
"I had an operation and I felt very bad last year, but now I have different feelings. I am playing again and hope to play good tennis and to be injury-free."
Ranked fifth before being forced out of tennis after last year's Australian Open, del Potro said he was at his lowest ebb before undergoing surgery.
"Nobody knew my real injury before the surgery," he said.
The uncertainty was unbearable as del Potro pondered the prospect that his career could be over at just 21 as doctors delivered different prognoses.
"I saw many doctors and one says in maybe two weeks I'll recover, another says in two months," del Potro said.
"I made the decision to have surgery and I knew after the surgery that in four to six months I would play again."
Del Potro ended Federer's five-year US Open reign with a powerful five-set triumph in the 2009 final in New York, but has since slumped to 258th in the rankings.
"I have different goals for this year," he said.
"Of course, last year when I was in Australia my goal was to be No.1 before March and now I think my goal is to play well again, that's all."
Del Potro said he was indebted to tournament director Craig Watson for handing him a wildcard into the Sydney event and the South American begins the long journey back against Spanish sixth seed Feliciano Lopez on the main court.
"I just want to play," he said. "I don't know if I will win or if I will lose, but I will do my 100 percent on the court.
"Of course, my goal in the next couple of years is to win another grand slam, but it is a long, long way to get them.
"I'm just trying to feel good again on the court."