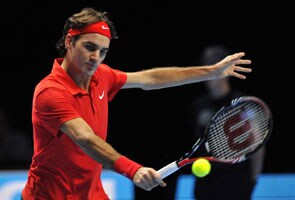 Self-confessed cricket fan Roger Federer warned the England team to enjoy holding on to the Ashes after cruising through his opening match at the Australian Open on Monday.
Watched by members of the touring England team, just weeks after their first series win in Australia for 24 years, the Swiss maestro put paid to Lukas Lacko of Slovakia in straight sets on Rod Laver Arena.
Federer, a fan of many sports, was asked by an English reporter at his post-match conference if he was aware of the significance of England's 3-1 Ashes series win over Australia this month.
"I do follow cricket, yes. I did see a bit of the Ashes at the very beginning. Then after that I didn't see much anymore," Federer said.
"Yeah, I always like to watch cricket when I'm down here (in Australia.)
"Yesterday I was watching the (Australia-England) one day match a bit.
"Yeah, I know it's big news, so you should be happy that you have it.
"It's not always going to be like that, it changes, you know. But they played well, so..."