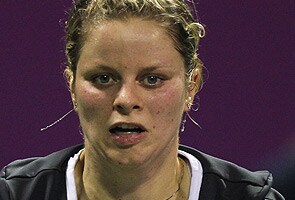 An older and happier Kim Clijsters looks set to continue her sparkling second coming when she heads into next week's Australian Open as one of the hot favourites for the women's crown.
Clijsters' stunning return to tennis in 2009 after the birth of daughter Jada, when she won the US Open in her fourth tournament back, suffered a setback in Melbourne last year when she crashed out in the third round.
The 27-year-old Belgian was also one of the favourites in 2010, but after cruising through the first two rounds she suffered a humiliating 6-0, 6-1 loss to Nadia Petrova, bewildering herself and her fans.
But the Australian Open disaster proved only a temporary setback for the popular Clijsters, who went on to win five tournaments in 2010, including her third US Open.
Now she is back in Australia and ready to make amends for last year, saying she has never been so happy on a tennis court.
"There were some tough times in the beginning," Clijsters said of her comeback. "But now, especially with the second year starting to be on tour again, I feel every week it just becomes easier.
"Jada's getting a little bit older, she understands the lifestyle that we live at the moment and that makes it easier for all of us."
Clijsters said this made playing tennis far more enjoyable.
"Tennis is something that I really enjoy and now there's that balance between (motherhood) and also having some time to yourself," she said.
"For me, my time for myself is when I can be out on court and really focus on playing tennis and trying to get in shape."
With defending champion Serena Williams missing through injury, Clijsters will go into the tournament as third seed behind Caroline Wozniacki and Vera Zvonareva.
Clijsters beat Wozniacki on her way to winning the year-ending championship in Doha and again at an exhibition at the start of the year.
"I kind of wished that the season wasn't over yet, after the championships last year, because I was hitting the ball so well," Clijsters said.
"But I feel good. I feel like I'm hitting the ball well and, injury-wise, there's no problems and that's obviously a big key here in Australia -- being fit enough to play these matches.
"I'm in shape, I've worked hard so that I'll be able to last the whole three weeks, or four weeks if I have to."