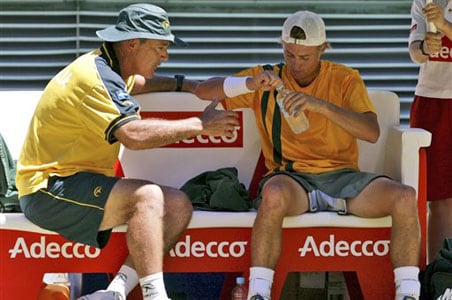 Melbourne:
Tennis Australia on Saturday pulled out of next month's Davis Cup tie against India in Chennai citing security concerns, a decision which could make them liable to a one-year suspension and hefty financial penalty.
The announcement came barely a day after the International Tennis Federation (ITF) rejected TA's plea to shift the Asia-Oceania Group I tie from Chennai, expressing it's satisfied with the security situation in India.
"We asked for the tie to be moved because we have major security concerns for the players, particularly during the (Indian) election," TA President Geoff Pollard said in a statement.
"The ITF decision has left us with no other option. We cannot send the team. It is extremely disappointing. It would be irresponsible of us to send our players into an area of such high risk. Davis Cup is very important to us but some things are more important than tennis," Pollard said.
Australia face a fine of USD 100,000 and the ban for not abiding by the ITF verdict after the games's governing body yesterday upheld its decision to go ahead with the third round tie in Chennai.
"The ITF Board of Directors has upheld the decision of the Davis Cup Committee... The tie will take place in Chennai on May 8-10. The location and venue was previously approved by the Davis Cup Committee following a positive report from the ITF's security consultants," an ITF statement said.
The Australians wanted the ITF to shift the tie since the Lahore terror attack on Sri Lankan cricket team, which left seven Sri Lankan players and their assistant coach injured and eight policemen dead in March.
Reports said Australian Davis Cup captain John Fitzgerald also denounced the ITF decision to go ahead with the tie in India, pointing out the Indian Premier League Twenty20 cricket tournament was not shifted to South Africa for no reason.
"It is just irresponsible. Surely some thought must be given to the players' safety. I believe they say the election is not a cause for concern, the IPL moving is not relevant and that an ATP tournament held in January shows it is safe to play in Chennai," Fitzgerald said in the statement.
"A train was hijacked this week, but that does not alter their thoughts? Did the IPL move for no reason? This decision makes no sense. We have worked so hard to get back in to World Group contention, to have it snatched away like this is gut wrenching," he said.