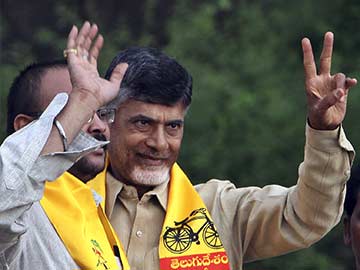 Hyderabad:
Andhra Pradesh Chief Minister designate N Chandrababu Naidu today announced he would run his administration from Hyderabad itself, putting at rest speculation that he would open a "camp office" either in Vijayawada or nearby to run the new state's affairs.
"I am not going to leave Hyderabad and will run the (AP) administration from here only," he said this afternoon.
Mr Naidu, who will take oath on Sunday, was addressing a meeting of TDP's Telangana unit at NTR Bhavan in Hyderabad.
During the recent poll campaign,Mr Naidu had indicated he would run the new state's administration from outside Hyderabad though the city would remain "common capital" of the two States (residual AP and Telangana) for ten years.
"I will work from under the trees. We will pitch tents and work from AP only and not from Hyderabad," he had said.
After TDP's win, there had been a lot of speculation that Mr Naidu would shift his base to coastal region and possibly set up a temporary camp office to run the administration from there.
Government officials even did a recce of the Acharya Nagarjuna University campus in Guntur and also AP Special Police battalion campus between Vijayawada and Guntur for to select a possible location for the camp office.
Mr Naidu himself gave enough indications to his party MLAs about this while Chief Secretary and DGP, too, were said to have started efforts for possible relocation, at least temporarily. Mr Naidu's idea was to operate from the camp office for three days a week and spend three days in Hyderabad.
But senior officials reportedly suggested otherwise citing "practical difficulties". While lack of infrastructure is the main deterring factor, movement of Government hierarchy between Hyderabad and the make-shift headquarters will be too cumbersome, the senior bureaucrats reportedly told Mr Naidu.
"Government accommodation in guest houses in Guntur, Vijayawada and Nagarjuna University put together is available only for 70 people. That is insufficient to meet the requirement of the new administration," they told Mr Naidu.
Meanwhile, TDP's alliance partner BJP said three Union Ministers, Rajnath Singh, Venkaiah Naidu and Nirmala Sitharaman will attend the June 8 swearing-in ceremony.
This was stated in Vijayawada by Andhra Pradesh BJP General Secretary Jammula Syam Kishore, who said some of the BJP Chief ministers may also attend the ceremony.
Mr Naidu then agreed not to base his activity in Vijayawada or any nearby place.
He chose to make his decision public today and utilised the Telangana TDP meet for the purpose.