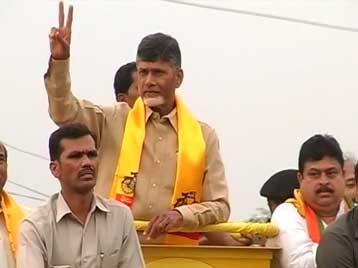 Hyderabad:
Andhra Pradesh Chief Minister Chandrababu Naidu had promised the people of Seemandhra that he would build a new capital,
a la
Singapore, for them, after the bifurcation of the state.
At least, he had said, he would recreate Hyderabad, the joint capital shared by Telangana and Andhra Pradesh for the next ten years. But that may not be possible.
Neither land nor money seems to be available for the ambitious project.
"I have developed Hyderabad and no one can deny that. I will build a new capital that can compare with Singapore,'' Mr Naidu had boasted.
But he may not be able to create another Hyderabad in bifurcated Andhra Pradesh.
The K Sivaramakrishnan Expert Committee, entrusted with the task of searching for a new capital city, has recommended against building a single super city. The panel has suggested decentralised development in multiple locations.
"It is not necessary to concentrate all the government offices in one location. Why should ports or fisheries have its office in dry Anantpur, for instance, instead of near the coast? We have recommended a statewide development plan with 13-14 main locations and 3-4 big cities that will provide opportunities for growth to various cities like Vizag, Tirupati and Rayalaseema,'' says Mr Sivaramakrishnan.
The state government had almost finalised the region between Vijayawada and Guntur in the coastal belt of the state as the location for its new capital. But non-availability of contiguous land and escalating prices will make land acquisition prohibitively expensive for the state government.
YSR Congress leader Jagan Mohan Reddy has accused the government of "selling dreams" without considering the conditions on the ground first.
The Andhra Pradesh government will have to shift 192 government offices located in Hyderabad. Meanwhile, virtually every government building in Hyderabad is currently under dispute between the governments of Telangana and Andhra Pradesh.