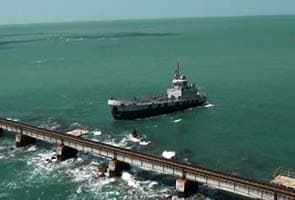 Rameswaram:
Normal train service between Mandapam and Rameswaram resumed today after seven days with railway officials finding the Pamban Rail Bridge, part of which was damaged when a barge towing a naval ship which ran aground, drifted and rammed into it, fit following restoration work.
Officials said for now train service would be operated only during day time between Mandapam and Rameswaram section.
A K Rastogi, Divisional Railway Manager, Madurai, M Satheesh, Principal Chief Engineer, Lalloo Singh, Chief Bridge Engineer, Chennai, monitored the restoration work on the damaged Pamban Rail bridge undertook by a team of engineers from Madurai and Chennai divisions.
After restoration, a light engine and a rake train were operated on the Pamban bridge between Mandapam and Pamban and the track and bridge was found fit, Rastogi said.
As the tug ship was still in the shallow waters near the Pamban bridge,the night train services over the bridge and Mandapam-Rameswaram section had been suspended for today and tomorrow, a release said.
The up and down Madurai-Rameswaram, Tiruchchirappalli-Rameswaram passenger and Chennai Egmore-Rameswaram express trains will run as usual from today, the release said.
Some trains were fully and partially cancelled on January 20 and 21.
The naval ship bound for Karwar in Karnataka had ran aground on January 10 while being towed from Kolkata when strong winds swept the ship and barge close to shore near Pamban bridge connecting the island with mainland. The barge drifted and collided with the British era bridge on January 13 disrupting rail link to the island.