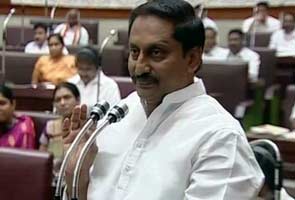 New Delhi:
Andhra Pradesh Chief Minister Kiran Kumar Reddy met Congress President Sonia Gandhi in Delhi today over the Telangana issue.
Sources indicate that discussions were held on whether to accord Telangana statehood or form a separate territorial council, on the lines of Bodoland Territorial Council.
Mr Reddy, who arrived in the national capital early this morning, had an hour-long meeting with Congress general secretary in-charge of the state Ghulam Nabi Azad soon after his arrival. He then drove to Mr Gandhi's residence where her political secretary Ahmed Patel also joined in.
After an all-party meeting on December 28, Union Home Minister Sushil Kumar Shinde had declared that a decision on Telangana would be announced within a month. However, a day before the month's deadline ended, he said some more time was required for consultations.
Party spokesperson PC Chacko had on January 30 signalled that the process has been put on the fast track. "Congress is not against the formation of Telangana state. We are in the process of taking a decision but then formalities have to be completed," Mr Chacko had told reporters.
Protesting the delay in taking the decision, seven Congress MPs from Telangana last week sent their resignations both from the Parliament and the party to Sonia Gandhi.
The Nationalist Congress Party (NCP), a key UPA ally, has also made a strong pitch for a separate Telangana state, saying a delay in the matter would not be helpful. NCP chief Sharad Pawar met Prime Minister Manmohan Singh last week and raised the issue with him.

(with inputs from Agencies)