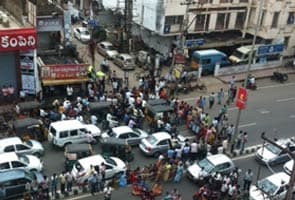 Vijayawada:
What does the formation of Telangana mean to Andhra Pradesh's commercial capital of Vijayawada? By and large, the people here have been in favour of a United Andhra, but they now have to get used to the reality of the bifurcation of their state.
The city, in the coastal Krishna district, is Andhra Pradesh's third largest after Hyderabad and Vishakhapatnam.
It is a relatively prosperous region and is the place of origin of thousands of NRIs. It is home to many professional colleges, has a flourishing automobile accessories industry and many car dealerships.
The region is also important in the prolific Telugu film industry in terms of creativity, production and distribution. Its excellent road and rail connectivity have made it the biggest trading centre of Andhra Pradesh.
Vijayawada means the Land of Victory. But there was one battle at least that was lost here in this coastal region. The fight for Samaikhya Andhra, United Andhra. A fight that was lost when the decision was taken to carve out Telangana, leaving many in the city unhappy.
One student told us, "We want unified Andhra. And we want to live in a state that is unified. We don't like broken pieces."
More voices expressed the same sentiment: "My vote is always for joint family. We love to be together. It is a black day. Because all Telugu people are one," says another.
The reasons for the disappointment were many. The eventual loss of Hyderabad after ten years as a shared capital, concerns over the supply of irrigation water from dams and power from generating stations in Telangana, and a strong sentiment against the division of a Telugu-speaking state.
The protests stayed largely peaceful in this region. Most of the voices we heard spoke more in sorrow than in anger.
One woman said, "We are silent in Vijayawada not because we cannot protest. We are silent because we are emotionally destroyed. We are losing a part of us. Telangana is part of us. It will be written in black letters in the history of Andhra Pradesh."
A school teacher taking part in a rally said, "We have been teaching the students, united we stand, divided we fall. Now, what are we as teachers supposed to teach the children? Always divide ourselves?"
The student voice has been clearly heard on both sides of the Telangana divide. If students of the Osmania University in Hyderabad were active campaigners for Telangana, it is on top of the mind for students here as well.
Vijayawada is an education hub. Thousands of students study here and have been active in campaigns for a united Andhra. And they are concerned about their future in a new Andhra Pradesh.
Hyderabad, already a huge concern, will be the shared capital for 10 years but it is surrounded by Telangana. A student reflected the general sentiment: "All the people around the state have invested their time developing the city. So why is it that it is going away to only one side?"
"It is not about Telangana, it is about Hyderabad. Most people from Vijayawada go to Hyderabad, set up their businesses. Students from Vijayawada go there for employment," he said.
"Students of Telangana may get advantage. And we will feel: are we at home, are we secure studying in Hyderabad?" asked another.
However, leaving sentiments aside, it certainly won't all be bad news for Vijayawada.
The bifurcation of the state has the region looking at a new capital - certainly not for the first time. In the 1950s, the capital of the then Madras Presidency was Madras. Then Kurnool ruled the roost until Hyderabad was given the lead role in Andhra Pradesh.
Vijayawada is being talked of as being a possible capital of the new, non-Telangana part of Andhra Pradesh after 10 years of Hyderabad as a shared capital. And people of Vijayawada are certainly keen to see this happen.
M Muralikrishna, President of the Andhra Chamber of Commerce is hopeful that the city will be named the new capital. He told NDTV, "Other than being a centrally located place, (Vijayawada) has a lot of infrastructure advantages also for being a capital of new Andhra Pradesh. It has the second biggest railway junction and Asia's biggest bus terminal for common people transport. And close by you have a port - a 250-year-old port, the Machalipatnam port."
"Fifty five years back, we had an airport that will become an international airport very soon. Road connectivity - it has two national highways connecting it to Chennai, Calcutta, Hyderabad to Machalipatnam - both passing through Vijayawada," he said.
Future capital or not, Vijayawada's real estate industry is already on a roll. Interest began to peak as the Telangana issue became hotter and people from the region, including the thousands of NRIs from the district, looked at investments outside Hyderabad.
Sudhakar Chigurapatti, former secretary of the Vijayawada Builders Association gave us more details. "Prices have been rising for the last couple of years. In my view, it has almost touched peak. The volume of transactions is very low. Maybe after this decision, the transactions might take place, perhaps a 15 per cent growth."
The fact is only upper middle class and rich people can afford their houses in Vijayawada now.
Prices in MG Road almost touch Rs 2 lakh per square yard. Compared to other metros, it is very high. In the other main road area, it is around Rs 70,000 to one lakh. Square foot commercial area is Rs 8,000-10,000 a square foot.
Residential areas are Rs 50,000-70,000 per square yard (Rs 3,500-4,500 per square foot).
If you take this part of the state, every alternative family has an NRI. So far they have invested in metros like Hyderabad, Bangalore and Chennai. Probably after this, they might choose this part of the area for their investments. Close to their native place, native village, native city.
As a result of high prices and lack of space, people in favour of Vijayawada are looking to the land between Vijayawada and Guntur to develop a future possible capital which might require around 4000 extra acres.
And it does look as if many areas of business could get a boost as investors begin to look more closely at places outside bustling Hyderabad. Pragmatic business from the region, while regretting the division, know it could make business sense.
V Kruschev, as you can guess from his name, is from a family of communists and is now a successful businessman in the field of media. He was asked by his daughter in Hyderabad when he was coming to visit her state! While he laughs sadly at this, he is pragmatic enough to know the city might actually benefit.
He said, "If this division is must, if it is compulsory, if the right government comes, the person who has a lot of vision about this area, definitely it will help Vijayawada. If Vijayawada is made a capital, it will help coastal people."
Tourism and the hotel industry would certainly grow in any new capital city.
Hotelier Patabbi Ram said, "It will have a major impact for hotel industry, because Vijayawada has a lot of tourist potential. If Vijayawada is made a capital, we are pretty confident the new government will focus on tourist areas around the capital city, just like in Hyderabad."
There are other claimants for the position of capital - the port city of Vishakhapatnam is bigger. The Rayalaseema region to the south would also like to lay claim. The feeling across the region is that the new capital should be decided soon to avoid the additional doubt and uncertainty.
CHRK Prasad, Secretary of the Andhra Pradesh Chamber of Commerce explained what uncertainty might do.
"I emphasise that they should announce immediately. Otherwise, till now there was a difference between Telangana and Andhra people. Now they are going to create a rift between Andhra people. I don't want that. Whatever it is, let them announce very fast. Even if Vijayawada is not made a capital, I won't bother. Because I am sure that Vijayawada can become the financial capital even if it is not the real capital," he says.
Change is the only constant. And that is true for Vijayawada as well. Decisions taken in faraway New Delhi will have an impact on this city. Having lost the fight for a united Andhra, the region can only hope this change will finally be for the better.