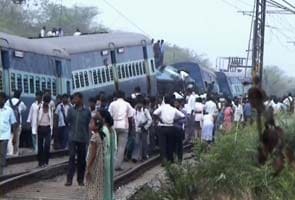 Chennai:
Eleven coaches of a passenger train derailed in Tamil Nadu this morning killing at least one person and injuring 50 others. Six of these 50 people have suffered serious injuries.
The Muzaffarpur-Yeswantpur Express train derailed around 6 am in Sitteri near Arakkonam, 100 kms from Chennai. (
See pics
)
The exact cause of the accident was not immediately known. Top officials of the Railways visited the spot and commenced an initial probe to find out what caused the derailment.
Railway officials said rescue teams were immediately rushed to the accident site and those injured were admitted to a nearby government hospital.
The accident also disrupted rail traffic on the Arakkonam sector. Several trains coming from Chennai including the Kovai Express, the Duronto Express, the Bangalore Express and the Brindvan Express were cancelled and many others were diverted.
Sources in the Railways said normal services were expected to resume by the evening.
In 2011, nine people were killed when two trains collided with each other at the Sitteri station.
Help line Nos: 080-22876288; 080-22203269; 080-22876410; 080-22156190