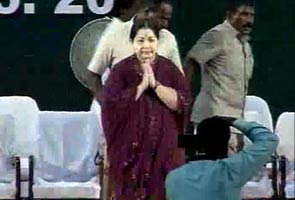 Chennai:
The Bar Council of Tamil Nadu and Puducherry on Monday appealed to Chief Minister Jayalalithaa to increase the amount being paid from 'Adocates Welfare Fund' to the next of kin of deceased advocate from the present Rs two lakh to Rs five lakh.
A delegation of the council led by its Chairman D Selvam met the Chief Minister and presented her with a memorandum requesting enhancement of the amount.
The council said it received frequent demands from advocates to enhance the death benefit, the council said in a press statement.
When the welfare fund scheme was introduced in 1991 the maximum death benefit and cessation of practice benefit was fixed at Rs 30,000.
It was later raised to Rs one lakh and again in February 2001, the death benefit payable to the family of a deceased advocate was enhanced to Rs two lakh and the sum payable on cessation of practice was fixed at a maximum of Rs one lakh in eligible cases.