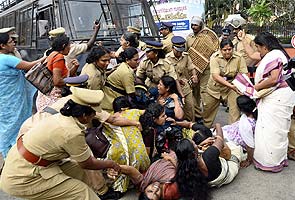 Thiruvananthapuram:
Protests by opposition members against the Kerala government's handling of demonstrations over the Suryanelli rape case on Thursday forced the state Assembly to adjourn for the third straight day.
Members of the CPM-led Left Democratic Front (LDF) said the police had been harsh on the legislators and women activists protesting outside the Assembly on Wednesday. They demanded a probe and walked out of the Assembly.
Opposition members and activists have been demanding a fresh inquiry against Rajya Sabha Deputy Chairman PJ Kurien in the 1996 Suryanelli case, in which a 16-year-old girl from Suryanelli in Kerala's Idukki district was allegedly raped by 42 men over 40 days.
Women activists had protested outside the Assembly on Wednesday asking for a reinvestigation against Mr Kurein. Police used force to disperse them.
On Tuesday, the opposition forced the assembly to adjourn after the government rejected its demand to re-investigate if Mr Kurien is linked to the case.
Last week, the Supreme Court week said that the Kerala High Court, which acquitted 34 men of raping the girl, must re-consider the evidence and deliver a verdict within six months.
Mr Kurien has rejected the demand for his resignation. "I have already offered myself for judicial scrutiny in 1990s. Why should I do so again? The High Court and Supreme Court had exonerated me then. A fresh investigation will be contempt of court," he told NDTV.