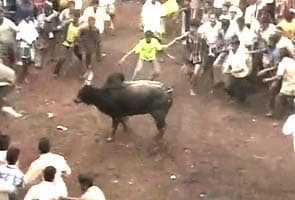 New Delhi:
The Supreme Court today declined to stay the Tamil Nadu's traditional bull fight Jallikattu for the forthcoming Pongal season starting from January.
A petition filed by the Animal Welfare Board argued that as per the experience of Jallikattu conducted in the last season, the court must modify it interim orders and grant a stay on it.
Tamil Nadu argued that the court had passed interim order allowing Jallikattu after stringent conditions including forming a medical board, and that there is no need to modify that order.
The Supreme Court said it will not modify its interim order on allowing Jallikattu to go on and posted the case for hearing on January 9.
After the top court had slammed the way the festival is conducted in the state by harassing the bulls, the state had enacted a law incorporating conditions laid down by the Supreme Court. The law prescribed five-month limit to conduct the bull fight instead of round the year and under the supervision of medical board.
The Animal welfare board had challenged this law in the Supreme Court.