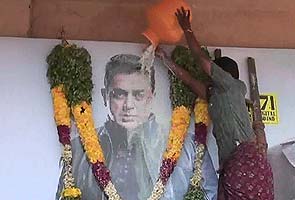 Chennai:
The support for Kamal Haasan spiked today with prominent film stars and directors in Chennai and Bollywood rallying around the actor-director whose film Vishwaroopam has been banned for two-weeks by the Tamil Nadu government.
Chief Minister J Jayalalithaa denounced suggestions that the ban amounts to a violation of free speech, and said it was required to maintain law and order because leaders of some Muslim groups had objected to the portrayal of the community in the 95-crore spy thriller.
(Jayalalithaa alleges 'hysteria, wild charges' over Vishwaroopam ban)
Kamal Haasan disclosed at a press conference yesterday that the ban on the film has hurtled him into borderline bankruptcy. He said he has hocked his house and other properties to a money-lender. Fans responded by gathering at his office this morning with cheques and demand drafts, a sign of their loyalty to their icon. Among them was popular Southern actor Surya.
Actors and directors, in a flurry of tweets, pointed out that the government has no right to intervene after the national censor board has cleared a movie. "A zone of shame for a sham of a political scenario....Kamal Haasan needs not only our support but fraternity proactivity.....like NOW!!!," said director Karan Johar. Bollywood superstar Salman Khan tweeted this diktat to his fans: "go stand outside the cinema hall and insist on seeing the film. It's a movie, entertainment. What law and order problem on a movie?"
(Support Kamal Haasan and his film, Salman tells fans)
Information and Broadcasting Minister Manish Tewari, also on Twitter, said that this morning, that it's time to "revisit" the Cinematograph Act to ensure that the decisions of the Censor Board are implemented. Last night, he told NDTV that state governments cannot over-rule the Censor Board, which is created by an act of Parliament.