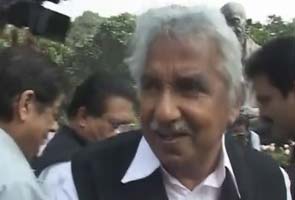 Thiruvananthapuram:
Hitting out at the LDF for its plan to lay an indefinite siege of the state secretariat over solar panel scam, Kerala Chief Minister Oommen Chandy today charged the opposition with resorting to undemocratic means to topple an elected government.
Countering the LDF demand for his resignation, Mr Chandy said holding the "administration captive" by blockade of the seat of power smacked of methods adopted by extremists and sought to know how could the Left, which had accepted the democratic polity, can resort to such protests.
"This kind of campaigns of mass mobilisation has taken place in some parts of the world to bring down dictators or military rulers. What justification is there for resorting to that kind of agitation to topple a democratically-elected government?" Mr Chandy said in a poser to the LDF.
Stepping up its campaign for resignation of Mr Chandy, the LDF planned to bring in over one lakh people for the indefinite siege starting on August 12.
Mr Chandy said the LDF had not been able to bring out any proof of the government's collusion with the scamsters or establish that the exchequer had suffered any loss on account of the deals of the accused.
The case was being investigated by a special investigation team (SIT) which was expected to submit the chargesheet soon, he said adding if the opposition had any objection to the charge sheet it could be brought to the attention of the government and sought to remedy them.
Instead of that, stalling the administration would amount to causing severe hardship to the entire people of the state, he added.
Meanwhile, Opposition leader VS Achuthanandan continued his tirade against Mr Chandy over the scam, in which one of the Chief Minister's personal aides has been arrested for alleged links with the accused.
Addressing a press meet, he accused the government of adopting dictatorial and repressive methods to suppress the agitation, apparently referring to various measures, including requisitioning of CRPF, taken by the UDF government to tackle the situation.