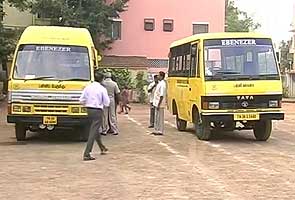 Chennai:
Students across Tamil Nadu are facing a harrowing time today with school buses staying off the roads.
School managements are not plying the buses to protest against the stricter norms introduced by the state government for vehicles transporting school children. The state has around 10,500 private schools which own around 50,000 buses. With these buses staying off the road, many students are forced to walk to their schools.
The new regulations were laid down following the death of a six-year-old student, Shruti, after she fell through a hole in the floor of her bus on July 25.
"We are operating buses in losses only, it is not on profit. And secondly, it's not a strike. We informed all the parents that we would not come on this day alone because we want to tell the government politely that we are in problem, kindly do something for us," said Sukumar Jeyasingh, Correspondent, Ebenezer School, Chennai.
"Whenever I read about such incidents in newspapers, I felt scared as a parent. I think the government has to step in at some point of time so that we parents can we at peace knowing that something is being done. But I don't know why these people have to go on a strike? They could have accepted the government's directives in a good style," said J Sathya, a parent.
The new guidelines say drivers should have a minimum experience of five years and attendants must have a conductor's licence. The buses should not cross the speed limit of 40 km/hour within the city and be inspected every three months.
The government has put special emphasis on safety. It said damaged floors in buses, if any, must be replaced and not repaired. All buses should have emergency exits. Drivers fined for over-speeding or drunken driving should not be hired and the buses should not be overloaded.
But the schools argue that it is neither possible to put emergency exits in the existing buses nor can they afford qualified conductors. The managements say quarterly bus inspections will encourage harassment and corruption.
"Emergency exits are provided by the bus manufacturer, but the norms now goven are much bigger. And we cannot make such big emergency exits in our buses because it will not hold it. There has been no mishap in our school buses since 1974," said Mr Jeyasingh.