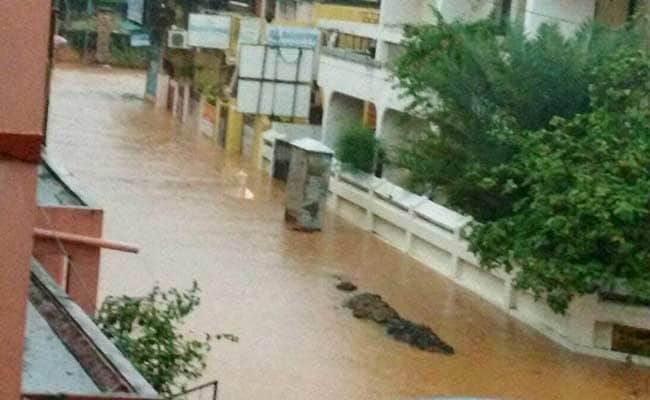 Puducherry:
Heavy showers continued to lash Puducherry, leaving localities under water and hitting normal life in the Union Territory where people in low-lying areas are being moved to safety even as water bodies filled up to the brim.
Amidst the relentless downpour, the government declared a holiday today for educational institutions as Puducherry and its suburbs recorded 21.8cm rain in the last 24 hours ending at 8.30 am today.
Although there was a let up in the rainfall for about 30 minutes in the morning, the showers resumed again.
Police, meanwhile, cordoned off the 45ft road leading to Kamaraj and Venkateswara Nagar on the outskirts of the boulevard limits as the housing colonies in these localities were inundated in the incessant rains that have hit Puducherry in the last few days. The traffic was diverted on other alternative routes.
Some residents of the inundated areas have been shifted to relief camps while water is being pumped out from water-logged localities, officials said, adding that food packets are being distributed among stranded people.
About 80,000 food packets were distributed today to those affected by the rains, revenue officials said.
All water bodies are filled and main thoroughfares in Puducherry reported water-logging. Office-goers had to struggle through water-logged roads to reach their workplaces.
Chief Minister N Rangasamy visited several rain-hit areas yesterday to oversee relief operations. He has appealed to Prime Minister Narendra Modi and Union Home Minister Rajnath Singh to release interim financial assistance of Rs 100 crore for the taking up of relief works.
Newspaper delivery suffered a hit as parcel vans were not able to proceed beyond Tindivanam to bring the bundles from Chennai with neighbouring Tamil Nadu, too, being pounded by heavy rains.
In the last 48 hours, that is, since 8:30 am on Monday, Puducherry has recorded a whopping 37cm rainfall, officials said.