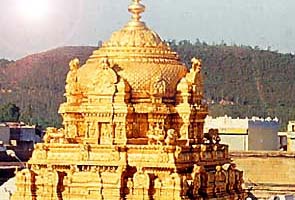 Hyderabad:
The Archaeological Survey of India (ASI) is considering a proposal to recommend recognition of the famous Lord Venkateswara Temple in Tirupati as a monument of national importance in view of its archaeological, epigraphical and historical background and cultural significance.
The proposal is being considered by the ASI and it is likely to make the recommendation to the Union Ministry of Culture, K K Sharma, Deputy Superintending Archaeologist of ASI, told PTI.
He, however, said a timeframe cannot be put on when the proposal is likely to be made formally to the government as the process takes time.
Declaring the ancient temple, located atop the Tirumala hills, as a protected monument by the ASI would go a long way in conserving its archaeological value and heritage, Sharma said.
The matter could be expedited if the Tirumala Tirupati Devasthanam (TTD), the governing body for the temple, agrees to the proposal for making the temple as a protected monument, he observed.
The ASI feels that dismantling of the historical thousand pillar mantapam at Tirumala and the gold-plating of the outer walls of the 'garbha griha', where inscriptions exist, as per the 'Ananta Swarnamayam' scheme are against archaeological norms.
Separately, the ASI, in an RTI reply to B K S R Ayyangar, a social activist based at Eluru in West Godavari district of Andhra Pradesh, has favoured several steps to ensure the temple's protection.