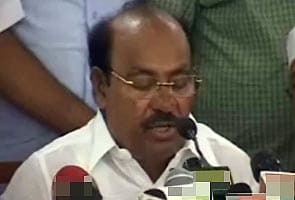 Chennai:
Pattali Makkal Katchi chief S. Ramadoss has begun a controversial campaign to stop Dalit men from marrying non-Dalit women, particularly those belonging to his own Vanniyar community. It has triggered outrage in Tamil Nadu and many political parties want action taken against the PMK chief.
They have taken umbrage at Dr Ramadoss saying, "Dalit men sporting jeans, t-shirts and fancy glasses lure our women into marriages that don't work." DMK chief and an old ally of the PMK, M Karunanidhi, has asked the state government to "act against anyone whipping up a casteist passion" and said, "It's dangerous like stepping into fire."
Dr Ramadoss began his campaign after a marriage between a Dalit man and a Vanniyar woman resulted in angry caste clashes in Tamil Nadu's Dharmapuri district last month. The bride's father committed suicide and soon after that more than 150 houses belonging to Dalits in the bridegroom's village were set on fire, allegedly by Vanniyars.
The PMK chief has attempted to give a political colour to the issue, alleging that such marriages are instigated by Dalit leaders. He has claimed that in many cases in the districts of Dharmapuri and Namakkal, marriages between Dalit men and non-Dalit women have broken down and brides or even members of their families have sometimes committed suicide. The PMK founder has sought a "probe by a retired High Court judge to reveal details of such staged marriages over the last four years and how young women and family members have been affected". His campaign has not found support among mainstream political parties, though representatives of some local communities have joined hands with Doctor Ayya as Dr Ramadoss is affectionately known.
Viduthalai Chiruthaigal Katchi chief Thol Thirumavalavan, largely seen as the political face of Dalits in the state, has demanded action against Dr Ramadoss under the Prevention of Atrocities against SCs and STs Act. He told NDTV, "How can women be lured by wearing jeans, t-shirts and fancy glasses? He doesn't want Dalits to wear these. The government should take action under SC/ST Act. He is instigating fanaticism to win votes after the rout in last general elections".
Dr Ramadoss' PMK, which champions the cause of his Vanniyar community dominant in northern districts of Tamil Nadu, drew a blank in the last Lok Sabha elections. His political opponents accuse him of attempting to consolidate anti-Dalit communities as a strategy to widen his votebank by re-positioning his caste-based party.